6 Reasons Why You Should Integrate your HRIS with your LMS

An HRIS or "Human Resources Information System" is the software that is used to manage and automate employee training, HR processes, payroll and accounting.

A good HRIS system allows an organization to plan, control and manage HR costs, carry out detailed reporting and effectively recruit new staff. Paradiso LMS can be integrated with your HRIS, meaning data is automatically synced between the two platforms. 

Get going with HRIS LMS: 

1. Ensure all the right data is synced across platforms – Important employee data such as department, title, location, salary etc. – is kept up to date across your LMS and HRIS. Hence, HRIS LMS integration.

2. Sync HRIS data to your LMS –  With HRIS LMS, when a new employee is added to the HRIS, a profile is automatically created for them in the LMS and their relevant data is imported.

3. Sync LMS  data to your HRIS – If your employees need to pass critical compliance tests, and these tests are taken in your LMS, then it makes sense that you integrate your HRIS with your LMS so that this HR data is kept up to date. Our HRIS LMS integration does just this.

4. SSO (Single Sign On) Between LMS and HRIS – No need to enter two sets of login details to access both systems. With SSO between HRIS LMS, you enter into either with just one ID, and the other is easily accessible via a tab on the dashboard.

5. Sync organizational hierarchies – With HRIS LMS, if your business has a complicated hierarchy structure, then this can be shared with and replicated in the LMS.

6. Create detailed reports – Use data across both platforms to retrieve complex reports based on a number of metrics. Data can be used for internal performance management or for recruitment purposes.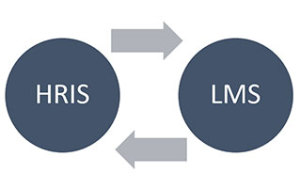 For more information about Paradiso LMS or HRIS LMS,
Call toll free on +1 800 513 5902 or drop in an email at [email protected]