Cornerstone VS Paradiso LMS comparison

If you want the best LMS solution for your company or institution, you should be searching for the best platforms in the market. In this blog, we will help you comparing Cornerstone VS  Paradiso LMS. These two platforms, rich in content and with great support capacity, are among the main eLearning software on the market.

One of the most important features that an LMS should have is the ability to integrate with other platforms. For corporate use, for example, an LMS must be able to build and maintain a relationship with CRM, HRIS platforms, among others. In this way, it will maintain a constant flow of data, really useful to monitor the progress of employees during their training process.

Likewise, a robust and reliable LMS must have a capacity to generate advanced reports, which allow administrators to have a detailed record of each user's movement inside and outside the platform while they're in training. These reports must be customizable according to the client's needs.

In this comparison, we will see the main features of the LMS by Cornerstone VS Paradiso LMS: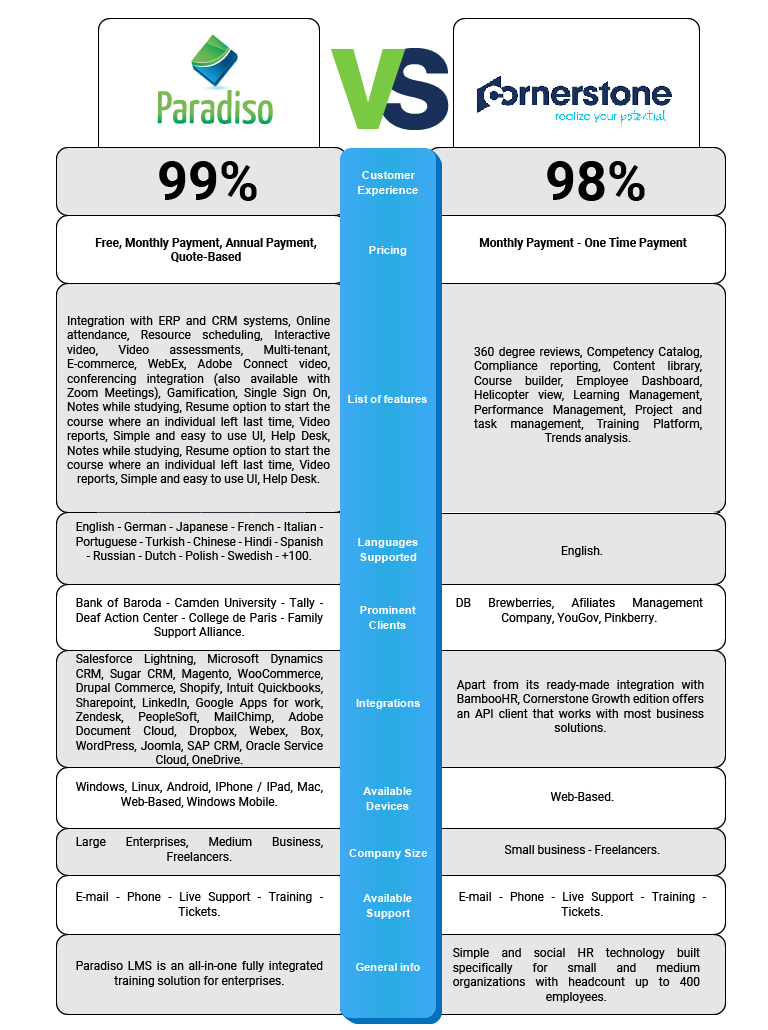 The importance of Mobile Learning in this Cornerstone VS Paradiso Comparison
Increasing your mobile user subscription base in the world is the base of your entrance to the mobile learning world. This combined with the low-cost of smartphones and far-fetched reach of mobile broadband technology holds key promises for the boom of mobile learning. Truly speaking, learning has definitely gone beyond the boundaries of the traditional classroom setting.
The entire idea of mobile learning has become a boom for new-age learners. They are adopting this mode of learning by choice as they don't have a lot of time to spare. The information providing bodies directly pushes messages to mobile devices or via mobile apps. The preferred formats of mobile learning are video tutorials, slide shows, and interactive sessions. Side by side, cloud-based mobile learning is growing at a fast pace. This is mainly to match the expectations of the mobile learner to the learning opportunities that showcase a massive potential through the light of the day.
Paradiso LMS is developed to be accessible from any kind of mobile device with and without internet connection. The offline mode feature of our LMS platform allows users to access the learning material from anywhere they are and take lessons, readings or any SCORM material. Learn more about this feature here.
Get the chance to try one of the best LMS solutions in the market by sending us an email to [email protected]. Schedule a demo with one of our eLearning experts now!