Start your course creation process easier than ever!

The creation of courses is an essential stage in the path of eLearning. Having high-quality content, well structured, designed to adapt to the interactive tools of the LMS platform and user-friendly, you can ensure that they acquire specific skills easily and quickly. But we know it is not an easy task, that's why we are willing to accompany you at every step of your course creation process.

The course creation process could become a headache when you want to have the most specific pieces of content, developed with certain standards or even for compliance training there needs to be such careful handling that most of the companies would opt for an already made course. But there are cases where the need for tailored content is imperative, for that reason, the development, and the course creation process takes more time, effort and of course, the costs can be higher.

The work of a course creator is not easy at all. You must combine a lot of preparation with years of experience and constant research so you won't be left behind in the latest methods, technologies and the newest tools that make eLearning content an effective, current and simple experience.

At the same time, the course creation process must follow a rigid design to avoid being left behind due to any bug or lack of proper course building that could leave your content out of SCORM compliance, probably causing a failure at the moment to run the course.

With the above, it might seem that the course creation process can only be carried out if you are an experienced developer, but the reality is that by following simple steps this process could be eased and you can be aware of every moment in the course creation process.

With this simple formula you will definitely easy the course creation process and ensure the success of your eLearning programs:
ANALYZE-DESIGN-DEVELOP-IMPLEMENT-EVALUATE
Analyze: The first step is to get a wide view of the objectives that you want to accomplish with the course, the target or audience you are pointing to purchase the content.
You must have clarity on the course type you want to build and the right kind of people that this content will be useful for.
This is because, usually, the content is not for everybody. If you build your content meant to be for everyone, then it will be for no one. But having a clear goal in which concerns the end-user will save both users and developers lots of time and resources.
Design: This step is dedicated to the planning and designing of your course content. In this stage, you must know what type of content you have and the course you are thinking to build. Whether if it is accompanied by interactive videos, types of activities, types of evaluation, readings, presentations or even gamification options.
The design must also follow the actual trends and be innovative since technology is the best ally to engage your users with mobile compatibility, artificial intelligence and other resources that you might find as a perfect match for the course type you're building
In this stage, the structure of your course must be clarified. You need to think about how to spread the topics and how long is going to take each lesson.
Develop: Here's when you have to get the help of a course development company or expert that will help you make your course a reality on the web.
The development stage is really important since everything that must be done should be taken with care and built with specified design terms and coding to comply with the course regulations such as SCORM, AICC, TinCan xApi, etc.
Creating every step of the development process could be hard and time-consuming work but with the help of an excellent eLearning course development company you won't have to worry about that, it will be handled by the engineering team.
Implementation: This step is when you start promoting your content, building your site or eCommerce chart to show your eLearning course to the world. 
The implementation stage is where everything starts to run so it can be tested, analyzed and working through the LMS platform of your choice.
Evaluation: This step is one to keep in mind constantly. To evaluate and analyze the impact, effectiveness, and success of your eLearning course is a daily task.
Once the course is ready and running, with enrolled students, during the evaluation process, when the course comes to an end, all of these stages of the eLearning process are evaluable and will throw each different and important data to measure the quality, impact, teachability, and success of your course.
Of course, the most remarkable evaluation that your content can get is the customer satisfaction and knowing that the users will start from scratch to get specific skills and improve their abilities after they accomplish the learning program.
The course creation process in Paradiso LMS (Step-by-step)
The course creation process in Paradiso LMS is very simple. There are three basic steps to create a course and by following easy instructions you will be able to transform the knowledge you possess inside your mind into tangible, useful information that will be enhanced by the features, integrations, and many technical possibilities from Paradiso LMS.
Three basic steps for the course creation process in Paradiso LMS:
1. On the left menu click on "courses" and choose the "create a course" option.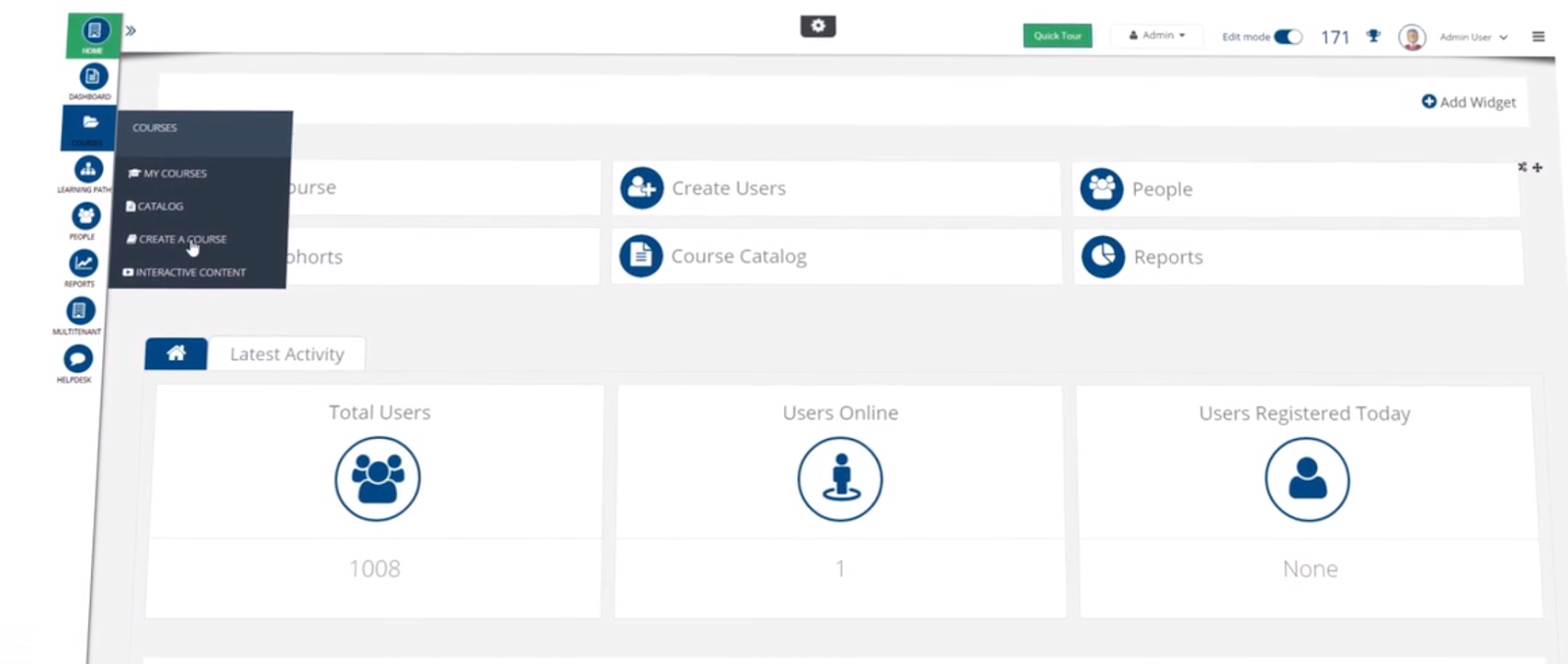 2. Type the course name, choose a category and write a description of the new course. Afterward, you can choose the type that you would like your course to have. It could be self-paced, blended, classroom training, virtual class.


3. The last step is to choose an image for your course and just like that, you have created a brand new course.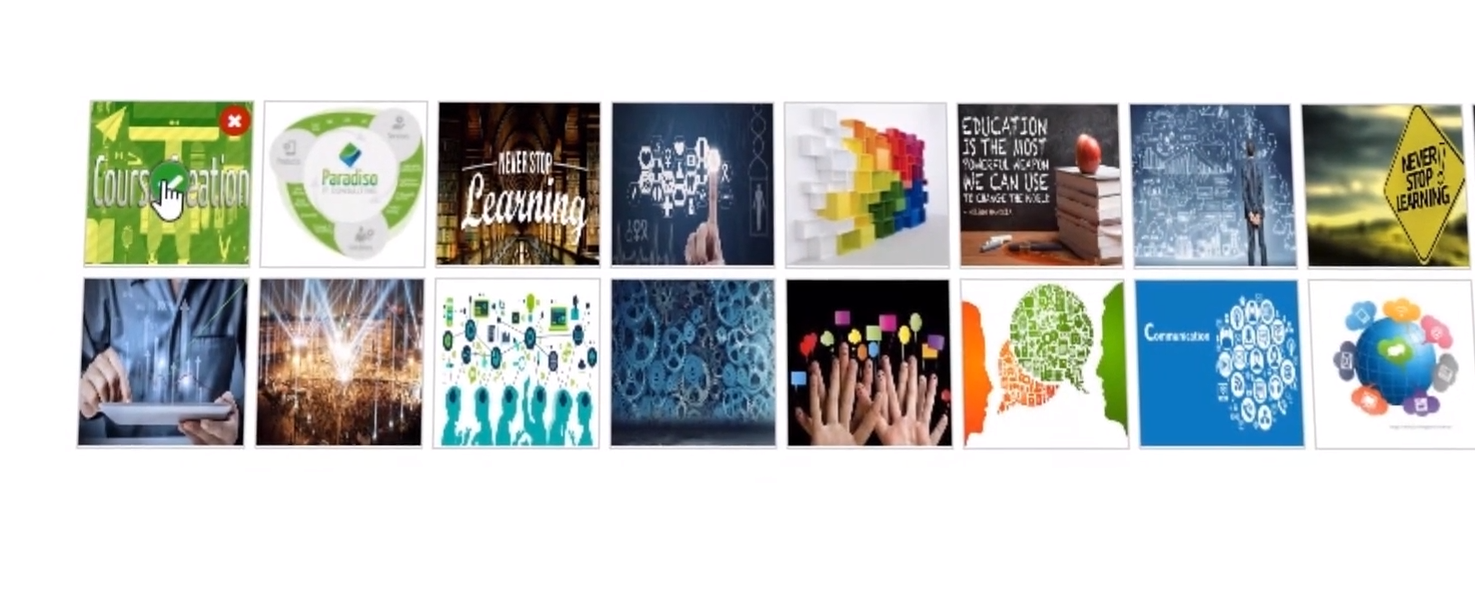 Paradiso LMS is a robust, easy to use, fully compliant platform capable to integrate with multiple other software platforms. Plus, we count with a course library of over 5000 ready-made courses at your disposal to start your eLearning programs now!
Contact for more information!