Empower your company trainings with Custom LMS by Paradiso Solutions

Most learning management systems can offer custom LMS solutions that could include features like changing the logo or the colors of your LMS. Those options are fine if you are thinking on a Facebook profile or even a video conferencing tool. But with the challenges and multiple opportunities that the eLearning world presents nowadays, to talk about customization is a major step than simple look changes.

In Paradiso Solutions, we recognize the necessity to have proper branding within your LMS, that's why we have worked to make you a custom LMS according to your preferences. Your branding is what defines you, and we ensure that this is reflected in the Learning Management System.

If you are really interested in showcasing your staff and customers the experience of the LMS as an extension to your brand, then all you need is to personalize it. Strong branding helps users to feel familiar with a learning management system, easing adoption obstacles by building trust. How far personalization should go to is a big decision. You'll need to decide if including branding elements like a logo, company colors and custom URL is enough. This personalization is referred to as Custom LMS.

Paradiso Solutions has been developing and improving Custom LMS works for many years. We focus all of our efforts and continually enhance all of our processes to understand and meet any businesses needs as deep as Custom LMS really requires. We are a unique custom software development company with the most experienced team ready to provide you with custom software development services; our fully satisfied clients have said it themselves.

Our experience allows us to understand our clients business and goals in order to deliver the best results, choosing the most appropriate technology and user interface design to custom tailor your needs.

Paradiso LMS biggest strength lies in providing Custom LMS services to various products and fulfilling our clients' requirements.

When we talk about deep we mean what we say. Companies and institutions needs are so different from each other as the challenges they have to face before, during and after the training and that should be the base of any customization work. With Paradiso LMS you get the possibility to make the platform not only an active member of your company but the most efficient of them.
Why you need a Custom LMS solution?
1. Rebranding is quick and easy with Custom LMS
A custom LMS can be purchased by a company and rebranded to associate with their own brand image. Consider this versus building an e-learning platform from scratch. Isn't rebranding easier? It definitely is! So you see, it frees up time for the entrepreneur to focus his attention on deriving a higher ROI on imparting training and learning, rather than on learning the LMS.
2. A custom LMS keeps your trainees happy
When you invest in a prepackaged custom LMS, your learners can easily associate with the brand image of your company because of the branding done by you, and this eventually instills a feeling of belongingness in them. Besides, customizing is a very useful thing when you want to resell the LMS by tagging it your own.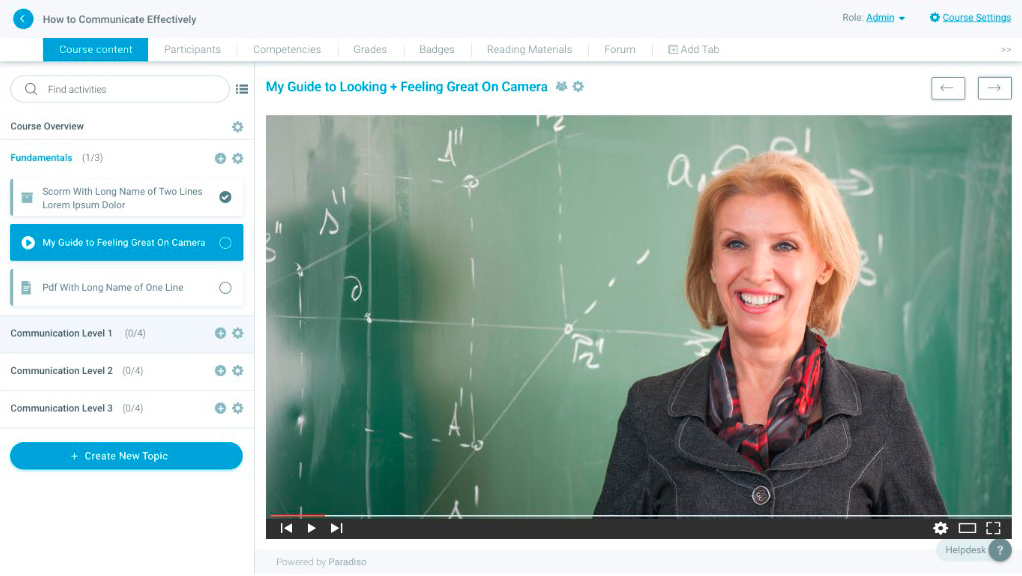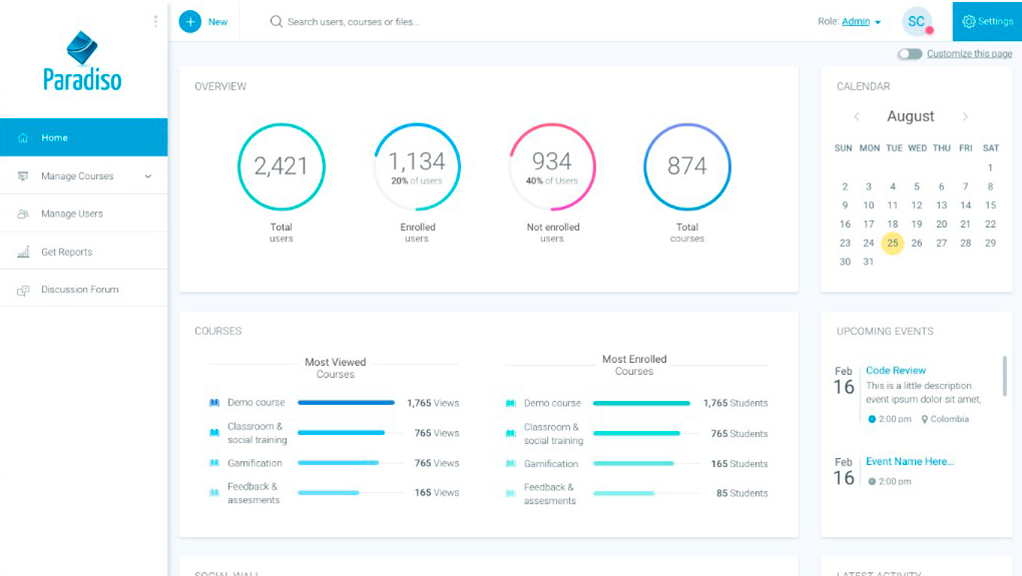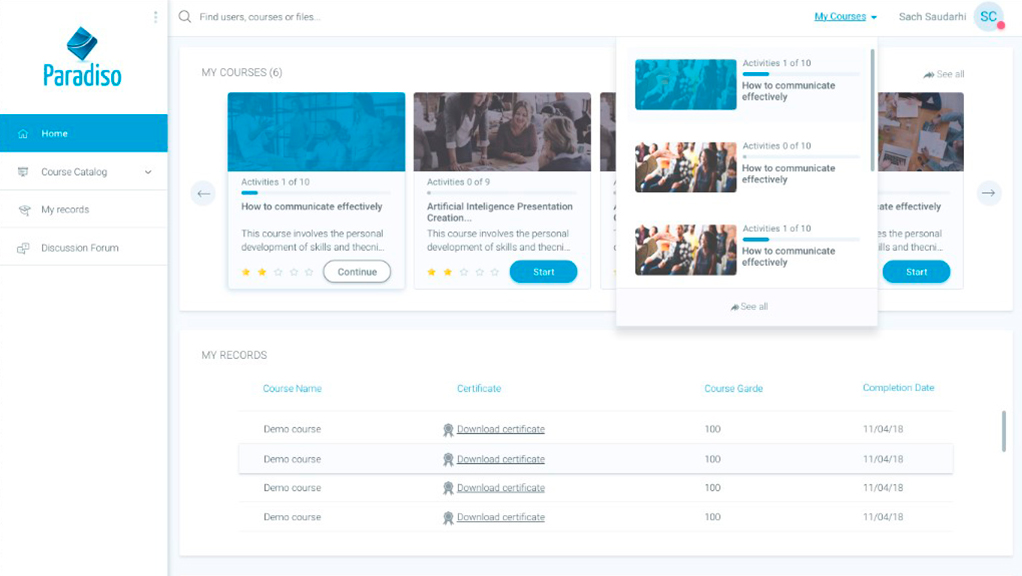 3. With Custom LMS you can save resources
Try developing such a solution from scratch and you'll end up losing a lot of time, finance and efforts of your human resources. Hence, an already set up Custom LMS will cost comparatively less than building something from scratch.
4. Custom LMS will help you focus on the important
It's always wise to not build yourself outside the areas of your expertise. Like already mentioned, you'll end up wasting your time, money and human resources on things that are trivial to your core competencies. They do nothing for counting in a higher ROI. Hence, it is a wise call to trust the experts and avoid pitfalls.
Why choose Paradiso Custom LMS
Paradiso LMS can be a re-branded as your company's own solution. You can easily rebrand our feature-rich LMS as your own custom LMS and so add value to your product portfolio.
Our custom LMS solution enables your brand to offer a service without having to invest in creating the technology, product development, financial and human capital resources.
Our features may include…
– Customizable UI.
– Custom Branding LMS.
– Learning Paths.
– Badges and Certifications.