Best eLearning Companies in Mumbai by Paradiso Solutions

Today we are presenting the companies that we consider contains the most relevant eLearning companies in Mumbai. India is a country well known for its raising software companies that are giving a new perspective of the IT industry and enhancing the quality of the field more and more.

When looking for eLearning companies in Mumbai or content developers, enterprises must wonder which are the best eLearning companies in the market. This is the main reason why we did a deep research to help you make the right choice.

Enterprises or educational institutes that provide eLearning services require special customization services, branding, specific activities or specific development for the content and the platform that they choose to run.

In Paradiso Solutions, we have listed the eLearning companies in Mumbai, including us, that we think to comply with the requirements of the companies of today's eLearning environment. Let's take a look: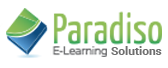 Paradiso Solutions
Paradiso Solutions, located in Pune, offers you the possibility to have courses and special learning contents for your company. We are not trying to brag about our LMS, but it is one of the best when we talk about eLearning platforms and content development.
With Paradiso, one of the best eLearning companies, you can be sure that you will get rapid course development, Mobile Learning compatible platform and content, Gamification, Simulation-Based Training, Custom Course Creation, Induction Training hours, Compliance training, multitenant, multilanguage and more.
Also the friendly and easy to use LMS can be integrated with more than a hundred apps like CRM, eCommerce, CMS solutions and video conferencing, all together, to create a better eLearning experience.
In addition, our eLearning Platform is fully customizable to fit all your requirements. It is also mobile compatible, adapted for social learning, has robust reports and supports multi-tenancy.
MPS Interactive
They are a developer that provides eLearning services like Learning consulting, experience and custom design, Gamification, Managed Learning Services, Platform Solutions, among other interesting features.
The Boston Group
The Boston Group creates custom online content and courseware. They offer services in employee induction, management training, product training, Salesforce training, and Customer training. Also, their platform is cost effective and they count with a course library.
NIIT
They are an eLearning company, locates in Mumbai, that offers managed training services. NIIT develops eLearning platforms and eLearning content. They offer the KnowledgeHub™ Learning Management System (LMS) which is a SaaS platform.
Upside Learning
Upside Learning is an eLearning provider that includes Custom eLearning, Multi-device/ Responsive eLearning, Games & Gamification, Performance Support, Rapid eLearning, Translation & Localisation, Video & Animation, Testing Lab for Multi-device eLearning, Onsite ID Resources and Instructor Led Training.
G-Cube Solutions
G-Cube Solutions provides custom eLearning services and Platform Customization, Authoring Tools, Translation and Language Services, Instructor Training, Game-Based Learning, Mobile Learning, Consulting, Advisory and Courses Library for quick consumption.
B Online Learning
B Online Learning is a platform for content development and training. They offer the possibility to create content with features like Instructional Design, Voice Talents, Articulate Tools, Video, Screen Simulations or different scenarios in which you will be able to develop your content.
Start your eLearning journey by setting up a demo with one of our sales representatives and build an engaging learning experience by the hand of the best eLearning companies in Mumbai.