Education has always been an evolutionary process. Right from the ancient times of cave paintings to traditional classroom learning and now to a more digital learning platform, the human need for education has not wavered. What has changed, however, is the way the education is imparted to us! In this age of advancing technology, the field of online learning or elearning, is making tremendous progress. Online learning has revolutionized the education system and introduced a learning system that is efficient, easy and most importantly, more widely available to a vast audience. With online learning gaining traction at such a rapid rate, one has to have a system to help regulate and streamline the whole process. And this is where Learner Management System comes in.
What is a Learner Management System?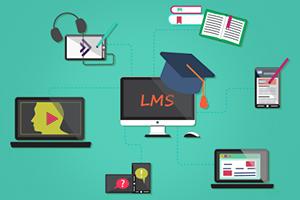 A learner management system, or learning management system, commonly known as LMS, is a software or a platform to deliver and manage online or e learning courses. A learner management system is used not only by educational institutions but also by the corporate sector to fulfil their learning and development requirements. The learning management system of a company is responsible for a number of activities related to e learning including creation and delivery of courses, tracking of progress, reporting and analysis, employee engagement, and lots more.   So what makes a learner management system tick? Let's have a look at some features which take your LMS to the next level.   5 Essential Features to make your Learner Management System stand out:
1. Easy to Use Interface:
The learner management system must have a simple and easy to use interface. Having a complicated and confusing user interface will cause the users to become wary of the learner management system, and can ultimately lead to them

switching to an easier route. To avoid this, an LMS must ensure that their user interface is clean, simple and extremely user friendly.
2. Mobile and Social Learning
:

Mobile learning and social learning are two of the most important and evolving trends of the e learning industry. Since online learning is rapidly becoming the go-to option for learning purposes, having the freedom to access the courses from anywhere, on any device, at any time, would be an immense advantage for a learner management system to have. This is what mobile learning in an LMS provides. Additionally, it is important to understand that since humans are social creatures, who learn through interacting with their fellow humans, it is essential that the learner management system provide a facility for its learners to interact with one another and communicate their knowledge and experiences with one another, working towards a mutual goal, personal growth.
3. Gamification:
Keeping learners engaged is one of the prime challenges that the e learning industry faces in current times. So regular cut and dry e learning courses simply won't do. A learner management system that incorporates gamification, i.e. adding game elements to non game activities, is one that is going to enjoy the most engaged learner audience, fully committed and participative in the e learning activities provided by the system. Game elements like reward points, levelling up, certifications, fun competitions, and more, add a much needed "fun" element, particularly to complex courses that would otherwise be considered boring and bland.
4. Integrations
:

A good learner management system would be sure to offer a number of integrations to make the functionality even smoother and easily share data across various other systems. Integrations carry a number of benefits for an LMS from making customer relationship handling easier with Salesforce and other CRM integrations, to turning your LMS into a business tool by selling courses directly through the system with ecommerce integrations with platforms like shopify or woocommerce.
5. Customization:
The needs of different organizations is never the same. Every organization has its own particular pain points that need to be address. So it is quite obvious that one generic learner management system is not going to be able to satisfy the needs of different organizations with the same effect. This is why customization is imperative. A learner management system offers a tailor made, custom solution to each of its clients based on their pain points and the issues they need to address. By offering a customized solution, an LMS ensures that the varying learning prerequisites of different organizations are targeted and satisfied completely.
A learner management system when used to it's maximum potential, becomes an intrinsic part of an organization. It not only simplifies the process of creating effective online learning courses, but also ensures that those courses are readily available and easily accessible to all users of the system, no matter where they may be. Consolidated e learning content ensures a seamless transfer of courses from the LMS to the learner. All the e learning information is accessible from one location, making it easier for the user to find and access said courses. A learner management system will make it profoundly easy for the organization to obtain feedback from the users, be it teachers or students, which will give them a holistic outlook on what they are doing right and where they need to improve.
A learner management system will also significantly reduce learning and development's costs, since all the training can be carried out online and can be easily accessed by the learners as per their convenience, without the need for  an instructor or a designated classroom space for the training program.   Offering a plethora of features, a learner management system makes the overall e learning process much more streamlined and promises maximum learner engagement and value from the provided courses. 
All in all, we can see that having a Learner Management System as an integral part of your organization is one step forward on the journey to success. So go ahead, take that step and make that journey unforgettable with the right LMS by your side.
Check out our video below for a clearer picture of Learner Management Systems>