Get your training programs on the right track with Learning Paths for employees by Paradiso LMS

Do you have training needs? Does your company implement courses and training activities? Sometimes this activities can be slowed down because of a lack of planning, delays in productivity or even, occasionally, for lack of an adequate action plan to train your employees. For that reason, you need to implement learning paths for employees in your company for your training processes.

In this way, designing an LMS learning path for employees in your company represents a benefit for both employees and employers. The bondage of the employee with the company gets narrow when he sees his working place as space where he is allowed to achieve the necessary knowledge to ascend.

Nevertheless, is important for enterprises to have a well-designed training structure that includes a general learning path for that content that requires to be transmitted to all audiences in your company. At the same time, you must have specific LMS learning path content for each employee, with a structure designed to reach the goals that he and the company needs.

This is important for the employee because he needs a guide to accompany him throughout the training process and in this way, he and his trainer can get to know where to start a training when it comes to his professional development and job environment.
What's the importance of Learning Path for employees Usage
When you are creating a training program you have to make sure that the learners complete the necessary courses and activities to achieve a specific knowledge or develop some skills. It becomes very important for you, your company or institution to create the right LMS learning paths to guide your students and control the completion of the training activities/modules in the sequence that you design.
How to create Learning Paths for employees in your LMS?
To create a learning path for employees plan, you can go to the option called "Learning Paths" placed on the Custom navigation.
You will be redirected to the Landing page. In that section, you can delete, edit, and search for existing learning paths. There is also a green button with a plus(+) icon that allows you to add a new learning path. Once you click on the Add button, a pop up will appear.
The first option is the Learning Path-name. This is where you can add the name you want for your curriculum.
Add the description of what your LMS learning path is about.
You must add a Learning Image, This learning path image should have the recommended size of 500×280 px.
Here you can enable Start and End date. This will determine and inform your students of the duration of the Learning Path.
When you enable this option, This learning path is going to be added to the Learning path Catalog allowing users to enroll themselves.
This last option will determine the number of credits needed to Complete a Learning Path. Credits are giving by courses (Course Properties). This field is optional, meaning that if you don't want your learning path to have the Credits condition, you can keep it empty.
Add Courses, Set prerequisites and Required Courses
To add a course into a Learning path, the first thing you need to do is go to Learning path Landing page and select a created learning path to add the course.
Click on the tab called Courses.
In the new page displayed, you will find the Learning Paths already created. In the upper right corner, you will find a "plus" icon. To add a course to the learning path, click on that icon and a pop up will be displayed.
Then select the courses you want to add. Click on the plus(+) button and the selected courses will be added to your learning path.
Add Required Courses
On the list of selected courses within the learning path, you can click on the switch from the column "Required" to set this course as mandatory within the learning path.
Adding Prerequisites
Here is where you're going to be able to set up prerequisites. This means that you can choose a course as a condition to complete before taking another one.
Click on the Gear icon of the course you want to add prerequisites to.
Select the courses you want to add as prerequisites for the course selected above.
Click on "Add" once you have selected the courses.
Click on Save.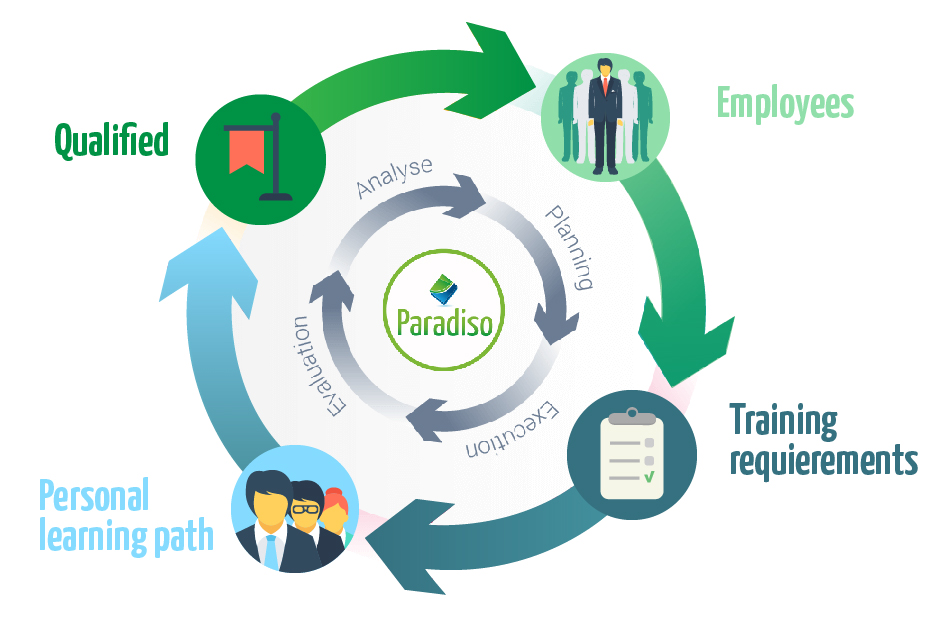 Adding students and cohorts to your Learning Paths for Employees
If you need to add a user to a Learning path, Click on the "Users" Tab.

You will find a plus icon at the right, click on it and a pop up will emerge with the list of users available to enroll in the Learning Path.

You can click on the first square at the top and it will select all the users available

If you want only to add a specific user, you can look for it using the search box at the top or just scrolling down, and select desired user.

Once you finish checking the users you want. Click on save.pic-2

If you are going to delete a user, Just select the specific user.

The click on the Delete button.
Adding Cohorts
Inside a Learning path, Click on the "cohorts" tab
The click on the Add button.pic-1
Select the Cohort you want to sync with this learning path (Or select all)
Save Changes
Note: To add or Remove Users from cohorts, you must go to Cohorts settings.
LMS Learning Path Self-Enrollment (as a student)
Learning Path Self-Enrollment allows users to enroll themselves into a Learning Path through the Course Catalogue. Is important to remember that if a learning path has enabled the option to self-enrollment, the courses within the learning path should also have the self-enrolment option enabled and that, in this specific scenario, is not possible to set up the courses as prerequisites.
When placed on the Learning Path, click on the right gear icon, which is the settings.
On the new screen that will pop up, scroll down and click on "Enable Self Enrollments". Then, save changes.
From the Course Catalog, click on the Category called "Learning paths". (if this option is not enabled on your course Catalog, you might need to go, as admin, to settings, general settings and Enable Learning path tab on course catalog).
You will see the list of learning paths available for self-enrollment.
It has become a trend in the corporate world to encourage employees to take paths that lead them to move up in the company. Paradiso LMS reporting has proven that leading your students/trainers to a learning path specifically designed for them brings more effectivity and detail. You are gonna be able to control all aspects of your training program including the performance statistics, the quiz scores, the aspects where the trainer needs to work more and be on top of achieving your company goals.
If your company isn't using the Learning Paths for Employees tool you must start a program that increases the engagement and takes your training processed to the next level.