Legal Search Engine Releases Second Version of Successful Mobile App

iSeekLaw mobile app is the first of its kind. It is a mobile application which makes searching for legal representation much easier. It allows you to search through hundreds of lawyers and produces recommendations based on your preferences.

iSeekLaw is a mobile application designed and developed by Paradiso Solutions. It is a mobile search engine that allows the user to search for attorneys. This application delivers hundreds of law firm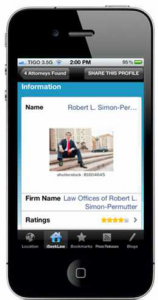 s to the consumer at any location. Iseeklaw uses a proprietary matching system to get more than a random list of lawyers. Users can actively select from over 15 different criteria to help them locate the best provider match possible. Simply clicking on any of the lawyers names on the app will being you to their page. This page contains video links and the lawyers contact info including phone number and email address.
The application, which boasts a visually appealing and easy to use interface, can be downloaded from the App Store and Android Market. The iSeekLaw homepage contains a video walkthrough explaining step by step instructions on using the app.
The Paradiso Solutions development team, based in Silicon Valley have created many succesful apps and are always glad to discuss previous projects with interested parties.