Deliver your training programs from any device with Paradiso LMS App

The magnificent union between technology and eLearning allows that through an LMS App your users have the virtual learning material on their hands. With the implementation of Paradiso LMS App, you can have all the features from the LMS platform in the device of your choice, with the possibility of accessing them anytime, anywhere.

On average, we spend 4.7 hours a day on our cell phones or mobile devices. In addition, there are almost 6 billion people in the world who own a smartphone. Studies have concluded that 93% of people between 18 and 29 use their smartphone to escape boredom.


Curiously, all these data are related in some way to virtual learning. The ages in which we carry out major studies and develop our professional profiles average 18 years and forward.

During this time we also enter the working world and this combination often goes against the continuity of the processes. In this way, with the implementation of the LMS App, you can reduce the time spend to leisure or boredom by turning your smartphone into a tool that, with the help of the LMS, will make the learning processes a didactic experience, effective, modern, safe and available for your users in offline mode.

The synchronization of changes and movements that users have made within the LMS App, evaluation notes or activity reports, is done once the smartphone is connected to an internet network.

Meanwhile, in offline mode, the LMS App allows users to develop content in packages such as SCORM or TinCan and access to files, videos, presentations, perform evaluations, send messages between users, among other features.

The following are the features you can get access to with our LMS App while offline mode:
Books

Files

Folders

Labels

Assignments

Workshop

Databases

Feedbacks

Forums

Glossary

Quizzes

Wikis

Survey

Notes

Users

Grades

Level of completion

Notifications

Calendar

Private files

Upload media
Compatibility
Paradiso LMS App is compatible with:
Windows 10

Request to your PM or Engineering team

MAC

Request to your PM or Engineering team

Android 6 and above

IOS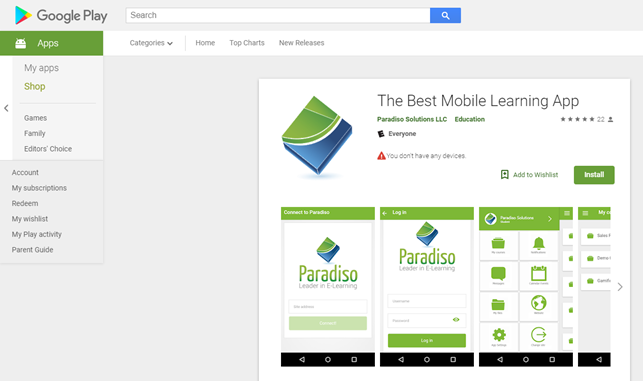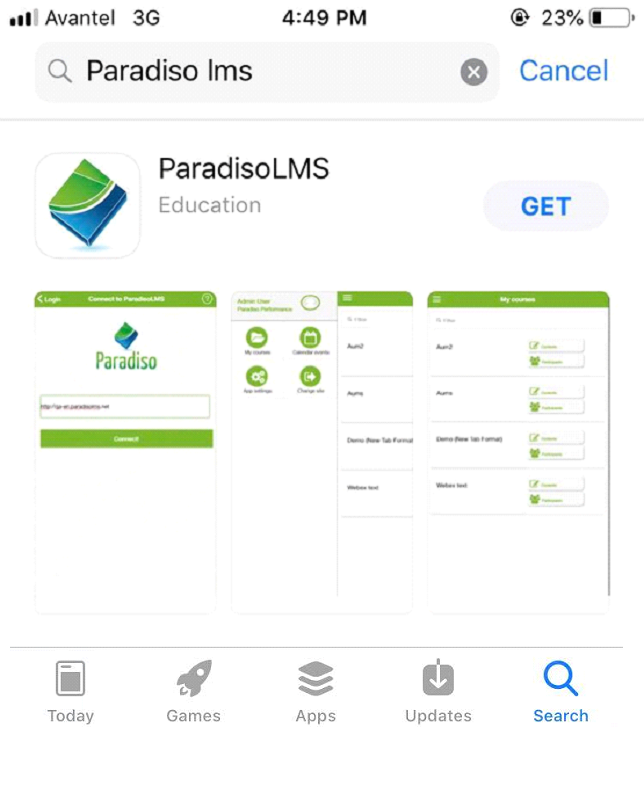 Is Re-branding Available for the LMS App?
The best feature on record that we'll rather swank is the re-branding / white-labeling for your mobile app. You tell us the elements you need and we'll configure the App to match your exact requirements.
Thereupon, we reckon… get our Paradiso's mobile App downloaded and get going for on-the-go learning!