Implement M-learning or Mobile Learning and start enjoying the multiple benefits that it brings to your Learning programs

Developing a permanent and accessible connection between users/students and the content they must access is key to get a quality education and much more if we talk about the new generations of learners and their relationship with technology. It is essential that companies or educational institutions implement strategies related to m-learning within their learning programs.

The main objective to accomplish with the adoption of an m-learning app is to decentralize the information, providing users with unlimited access to content that will now be de-temporal and delocalized.

This means that the users won't be tied to a place to be able to learn or they don't have to be at a defined time to take their lessons. But not only the space-time limitation is solved with the arrival of m-learning, but its implementation also allows users to access the LMS platform and interact with most of its features without having an Internet connection.

The adoption of M-Learning to your company will bring flexibility, accessibility, interactivity, motivation, and dynamism to the teaching, training and learning process.
Which benefits does m-Learning represent for your company?
The use of an m-learning app within your training program will help you adapt your company to the current reality and trend. The undeniable use of smartphones should not be considered a disadvantage, the main goal must be to take advantage of its continuous use by users to hook them with eLearning.
Other advantages offered by m-Learning or Mobile Learning are:
It contributes to the development of the digital skills of its employees.

It allows your trainees to develop self-control, take their educational processes as their own and carry them out autonomously.

M-learning offers the possibility of accessing knowledge in an unlimited way, without the need of an internet connection.

Users' engaging is directly benefited thanks to the possibility of adapting to new learning modalities and the implementation of tools such as

gamification

, that will considerably increase the participation and motivation of apprentices.

M-learning becomes a useful tool for the instructor to monitor the teaching process. Through the mobile application of

Paradiso LMS

, for example, the trainer can monitor evaluations, assistance or content management by students, likewise can be used as an agenda, clock or timer, to name a few.

For the student represents, as has been seen before, a world of possibilities at their fingertips, which can range from access to content at any space-time, making it possible for them to read, see and interact with videos and images, conduct evaluations, access links, glossary or even share their achievements and experiences through social networks.
Complementing your training programs in the Learning management system with tools like m-learning will help you offer your trainers a qualified education process. Even with the small screen size of the mobile devices, you get access to all the features of the LMS. Learners, tutors, and clients can easily access the training programs from tablets, smartphones and other mobile devices.
Talking about facility and features, Paradiso LMS is the best m-learning option for both corporate and educational scenarios. We have launched the latest version of our e-learning app, with highly improved features and adaptable to all your company's needs, including branding and support from our team of e-learning experts.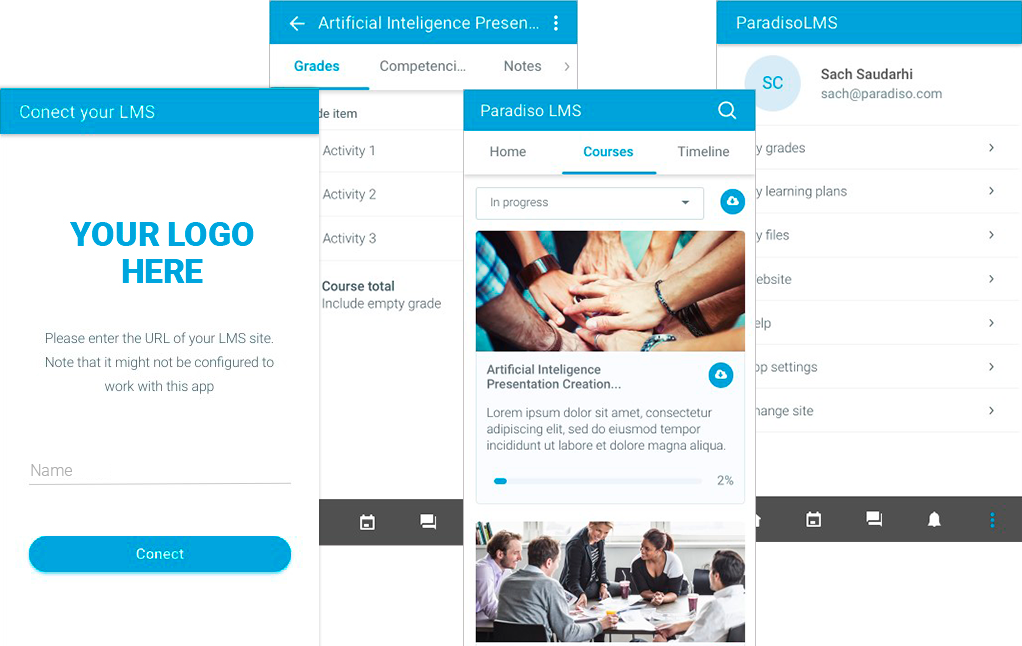 Get access now to the m-learning world of Paradiso LMS downloading our e-Learning app available for Android, Mac iOS and Windows in stores.