Moodle VS Paradiso LMS: Who is Leading the Race
Introduction
Today's business world is highly crowded and competitive. Every organisation is striving hard to find an ideal market strategy and is continuously probing for an ideal LMS for their internal training and overall organizational growth. To tick all the desired requirements with one solution could be a hefty task for an organization. LMSes can act as a catalyst to nurture the digital learning and training environment by providing self-paced, intriguing learning paths, and course creation methodologies to enhance productivity and employee engagement.
This blog depicts the dynamics between Moodle VS Paradiso LMS and its integration with the systems. These two LMS giants (Moodle and Paradiso LMS) play a spry role in serving all the organizations globally to make their experience better and hassle-free with training and educating employees.
Let's Begin with the Comparison of Moodle and Paradiso
Moodle is an acronym for Modular Object-Oriented Dynamic Learning Environment. It has potential for creating a successful e-learning experience by offering an abundance of tools that can be used to enhance conventional classroom instruction into a virtual learning environment system. Moodle is a feasible Learning Management System (LMS) that supports learning and training requirements for a broad scope of foundations and associations worldwide.
Today, Moodle is the most generally utilized Learning Management System universally, with well more than 100,000 enlisted usages overall supporting more than 150 million students.
Moodle Features:
Let's move ahead with Moodle VS Paradiso LMS comparison and take a look at Moodle's features below:
Mobile:
Moodle Mobile is the authorized application for Moodle and takes a shot at Android and iOS. The Moodle web interface can likewise be tweaked to have responsive website architecture utilizing HTML.
Live Engagement:
Moodle has inherent chat functionality. There are add-ons for the more significant learning instruments, including Blackboard Collaborate and Ultra, Big Blue Button, Zoom, and WebEx. (Extra permitting might be required.)
Evaluations:
In this component of Moodle, all – appraisals can be rich, mechanized, and altered. Moodle's teacher test interface is somewhat substantial and hefty and can set aside some educators' effort to learn.
Content Repository:
Moodle's vaults permit users to transfer records to a course from an assortment of outside document storehouses, including Dropbox, Flickr, Google Drive, and customary PC transfer. Educators can likewise look for documents from any of their courses facilitated by the equivalent Moodle server.
Analytics:
Moodle has a wide variety of reports and logs that permit teachers to follow students' progress and victories. These are produced at the course level, and educators will require the training to utilize them well.
Customization:
If your organization is willing to embed resources into Moodle, or the business is eager to pay for a top of the line Moodle Partner bundle, Moodle is entirely customizable and can be the best option. Additionally, this LMS also includes numerous other customization that incorporates modules, creation of courses, analytics, and dashboard.
Tool Variety:
Moodle has a wide range of instruments accessible that can be turned on or off at the framework level, for example, gamification and distributor reconciliation.
Course Management:
You can incorporate Moodle with your association's SIS (Student information system; however, it isn't turnkey. If you don't have an internal framework uphold, you can pay a Moodle accomplice to host and back the executives.
Moodle provides a flexible learning solution to help educate and empower employees.
Use cases for Moodle in the workplace include benefits:
Compliance

Competency-Based Training

Role-based Employee Onboarding

Product & Service Launches

Communities of Practice / Culture of Learning

Onboarding

Workplace Safety

Continuous Education & Professional Development

Certification Programs

Retainment & Hiring Internally / Upward Mobility

eCommerce

Extended Enterprise Training
An Overview of Paradiso
Paradiso Solutions is a leading eLearning organization pioneering the digital world which caters to online learning solutions and many more. It provides end-to-end solutions to different industries, including retail, manufacturing, healthcare, education, corporate training, and many more. It offers a range of services: Learning Management Software, Performance Management Software, CRM, ERP, HRMS, HRIS, and so on. Paradiso Solutions has been consistently ranked as the top technological solutions and services provider in the global market.
Paradiso has a powerful team of experts in Learning, Training Management Systems, and Content Creation who are focused on delivering services that alleviate end-users' learning experience. Paradiso is situated in 5 distinct workplaces worldwide: the United Kingdom, United States, India, Mexico, and Colombia. Paradiso handles the workforce of more than 100 satisfied employees.
Paradiso LMS
With Paradiso LMS, educators come across ways to make the training experience more lucrative and fun. It makes learning more engaging with game-based learning, with a 90% completion rate, which motivates users to spend time and enhance knowledge.
Paradiso LMS incorporates 100+ outsider platforms while giving strong information security. With its fitting and play usefulness, the LMS integration occurs in minutes. Highlights like gamification and portable similarity raise the commitment levels in learners/users, and thus, they find out additional! Its Multi-tenant highlight permits you to utilize single LMS for various offices/accomplices/customers/branches bringing about quicker usage, unified announcing, and a decrease in working expenses.
Key Features of Paradiso LMS:
Manage and create your entire SCORM or Tin Can API packages with Paradiso LMS hassle-free in a secure and deemed environment.
Introduce the most effective and interactive learning programs with your employees to nurture their skills and engagement level.
Combine face-to-face strategies with an online presence through Paradiso LMS and bring the learning at learners' finger-tips wherever they are.
Build multiple tenants in a single LMS stage and customize them in a never observed degree of detail.
Customizing your foundation isn't going to look and feel. With Paradiso LMS, you will have the option to adjust each part of the stage to your necessities.
Be on the head of the most creative eLearning training organizations with a versatile, viable LMS and find the opportunity to spellbind users' new ages.
User-Friendly:
Paradiso LMS is profoundly intuitive and user friendly
Gamified learning is extraordinary compared to other connecting devices that will upgrade the learning experience to the top.
Sell and advance eLearning courses or even traditional learning from Paradiso LMS eCommerce integration.
This is one of the different media tools that request high cooperation from the client, keeping them intrigued and dynamic in the instructional meetings.
Conduct online meetings effectively with Paradiso LMS virtual classroom integration. This element permits you to have one on one or numerous meetings with intuitive interest or conference mode, as you want.
Build progressed and detailed reports without any preparation with your details to get a profound examination of every learner or group of learners' learning cycles.
With Social Learning LMS, you can construct a community situation for your students to share thoughts, discuss, and learn together.
Learning paths:
Specific learning path projects will acquire high ability improvement with every one of your organization's divisions with incredible achievement.
You can have Paradiso LMS over 120 dialects.
Here are the benefits of Paradiso LMS
Lower costs as compared to other LMSes available in the global market

Flexibility in learning and training as per the users

More resources for learning and trainees to gain better learning experience

A one-on-one approach to training

Attention to detailed learning programs and course creation methods

Worldwide reach on the count of training and development

Potential for individual growth

An ambiance that is conducive to higher course training and independent learning
Moodle VS Paradiso LMS Comparison
Moodle open-source LMS software intends to offer learners the best experience that gives remarkable information security. It allows its users to install their accounts on the cloud or server. It can be set-up in minutes as it is a cloud-based, versatile, and has many standard highlights for instant use. Moodle is free LMS and can be utilized for in its vanilla form unendingly.
Moodle conveys a robust arrangement of learner-driven tools and cooperative learning conditions that enable both instructing and learning. Given its adaptability and versatility, Moodle can be adapted for educational training, business, non-profit, government, and numerous other community systems of all sizes.
These qualities of Moodle really qualifies it for Moodle VS Paradiso LMS comparison at a global level. Let's talk about Paradiso LMS now….
Paradiso LMS has a modern and user-friendly interface. Businesses can personalize the platform according to their needs, upload courses, and create and enroll employees. As in comparison Moodle VS Paradiso LMS, it is highly user-friendly and can be an excellent pick for small, medium, and large scale organizations. With Paradiso, users can easily access the dashboard courses and decide or choose their learning path.
Paradiso LMS provides cloud-based learning with a 100% customizable platform. You can train and guide your users, create and deliver courses, manage enrollments, assessments, and various reports with Paradiso LMS.
Paradiso LMS likewise gives more than 50 out-of-the-case integration with various venture applications, including Salesforce, PeopleSoft, Google Apps, OneDrive, and WebEx.
Here you can take a walk over Moodle VS Paradiso LMS comparison chart to assimilate it better.
Moodle VS Paradiso Comparison Chart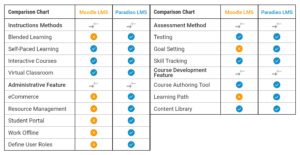 Shortcomings: Moodle VS Paradiso LMS
This segment will more emphasize on what is lacking in both the LMSes by comparing Moodle VS Paradiso LMS together.
Paradiso lacks a bit in terms of design, on the other hand, Moodle can be accessible on pockets, but UI is just not user-friendly.
MOODLE:
With the free Moodle version, you would see ads on the UI, and this would translate into the lousy user experience for your users. You'll have to pay a nominal monthly fee to remove the ads. Moreover, Moodle for School plans is primarily intended for the usage of up to 500 users. And this is a setback given Moodle's specialty of being an educational LMS. Educational institutes usually require a solution for over 500 users, and this puts them in a fix.
Paradiso:
Paradiso LMS is not much flexible in reporting capabilities, and also the site is prolonged, especially while loading pages. Its UI is not updated according to the latest version available.
Final Verdict:
It's a fair comparison between Moodle VS Paradiso LMS, depicting all the possibilities that will help you choose the best suitable. Go for Moodle if you need more control and progressed customizations in your e-learning program. You could pick Paradiso LMS if you need an exceptional LMS with user-friendly experience, alongside its arrangement and usage. Lastly, if you need cutting edge technical support, a user-friendly interface for your learners to collaborate with team-mates you can definitely go for Paradiso LMS.