Moodle Magento Integration: For Selling Courses Online

Imagine a site where your potential users can easily purchase, pay and immediately use one of the courses offered by you or your organization. This is exactly what our  MAGENTO-MOODLE integration is!

E -Commerce has been one of the most requested solutions here at Paradiso Solutions.  Magento being one of the most prefer to users and as our clients say "most cost effective", we have created the Moodle Magento Integration.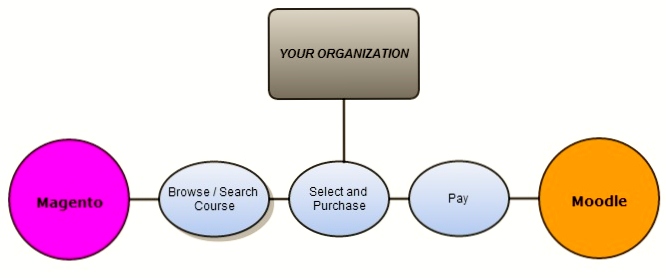 Moodle Magento explained in 5 steps  
     1. List of Courses

     2. Search for Course

     3. Purchase

     4. Pay

     5. Use
With the email the user registered at the time of payment they will be able to login and finalize the registration inside Moodle, not only that but automatically have access to the course the user has purchased.
Another great feature that we can offer is the Single Sign On for Magento and Moodle which easily allows the users to sign in with the same credentials used on either Moodle or Magento, this facilitates the process of the purchase and easily sends the course to each respective user as they purchase it.
  Moodle Magento Single Sign On
What we can conclude is that with a set of features installed by our Moodle Magento integration you are able to create an environment where users can have access to a ´self service´ platform where they can easily – REGISTER, BROWSE, PURCHASE, and USE the selected course directly in Moodle or Totara.  
Moodle and eCommerce are the future for the eLearning industry, so if this is exactly what you need – make a decision and contact us. 
Call us now at +1 800 513 5902 to talk with an LMS expert today,
email us at [email protected]
Related Posts: