On Salesforce Moodle Integration: Particulars of the Craft!

Paradiso Solutions, a provider of complete elearning solutions, brings to the table Salesforce Moodle integration. Before we proceed to speak more about Salesforce Moodle, Salesforce Totara or Salesforce LMS, a brief lowdown on who we are would be pragmatic. Paradiso Solutions is a heavily customized distributor of Moodle. We are delivering Salesforce Moodle/Totara/LMS solutions since 2007 to various clients – from Fortune 500 companies to small businesses.
Finer Aspects of Salesforce Moodle Integration
When a CRM like Salesforce integrates with Moodle, Totara or LMS, there are different types of accounts that are created. And, the type of training imparted depends on the account type created. For example: the sales team would need sales training and product training. The customers in corporate sector would be the distributors or partners, who would eventually need product training. For students, training like online courses, classroom training, transcripts, etc would be required. For employees again, there is onboarding, compliance training and other ongoing training required to be implemented on a continuous basis.  
Also, the different roles in a CRM has different needs, for example: the sales manager or a training co-ordinator for that matter are looking for ease of enrollment of the learners in bulk or individually from Salesforce in Moodle. If we take the case of a customer support manager, he may want to reduce the customer calls from the students. Same is the case with the partner manager, who would want to integrate training with all the partner portals. We cited these examples because this becomes important from the point of view of a CRM like Salesforce – that has a sales, customer support, partner portals in the platform.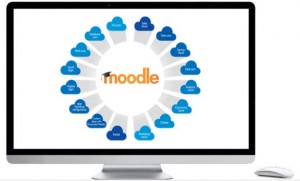 This is where Salesforce Moodle comes into play. It eases the goals of these portals and streamlines their work. Let's see what happens when streamlining of these departmental goals is not done-
1. Low adoption problems like cutting back on time on training

2. Implementing lower budgets for training

3. Not able to run reports on training

4. Learners not knowing that training was available

5. Learners forgetting passwords or

6. Simply ignoring to take the courses due to lack of motivation

7. Not getting the desired ROI from Moodle
Secondly, when you want to sell courses online, the integral aspect of your ecommerce is your CRM. This is because, the CRM is the point where you hold contacts like data of existing / new customers. If Salesforce Moodle is not in place, the ecommerce for selling courses online becomes easy, as you can give course access to the contacts, do email marketing, upsell or cross sell the courses. All this becomes possible when you have a CRM in place and it is talking to Moodle, where actually the courses run.
The Solution: Integrate Salesforce and Moodle
It's that simple! With just a simple amalgam of Salesforce Moodle, people will have access to training from Salesforce. Besides, let's look at a few other features of Salesforce Moodle.
1. Single Sign On – Especially useful when using Salesforce community, or using Moodle for employee, customer or partner training. With just a click of a button, they get access to Moodle. Hence, problems of forgotten passwords are gone!
2. User Sync – Whenever a new student/employee joins, the user information/profile data that you get input in the CRM gets synced with Moodle using the integration. When a user is deleted from CRM, it automatically gets deleted from Moodle.
3. Course Sync – Once a user gets created in Moodle/Totara/LMS and the students start taking courses, their progress can be viewed in Salesforce in the 'Contacts/Training/elearning' tab. All the data about a learner's course progress can be viewed by the Sales Admin or manager without going to Moodle.

4. Data Archiving – This is basically a student's course completion data that gets copied in the CRM as well. The major benefit of this lies in the fact that if the current LMS is decommissioned, all the student data will be available in the CRM.
5. Just-in-Time Training – This is as simple as bringing the training to the students instead of taking them to training. For example – If a sales personnel qualifies an opportunity and changes the status of opportunity/lead to negotiations, there'll be an automatic pop up for negotiation skills training.
6. Reporting – Salesforce has a robust reporting engine and you can only run reports if data is available. The problem is student data is in Moodle and the business data in Salesforce. By combining the two, you are able to run reports using some business data and some learning data. This could give you a valuable insight into the data.
7. Sell Courses Online – You could do cross-selling or up-selling of data, because data about who took which course is available in Moodle. Without the integration, you also wouldn't have the right data to gauge which courses are popular. Lastly, e-mail marketing can be done to the contacts when these two platforms integrate.

Sold? We bet the world on it and know that you are hankering for more on Salesforce Moodle! Don't fret! We are just a shout away from reaching you… Get in touch with us now!