Moodle Services Provider – How would you Choose the Right One?

Moodle, one of the leading open source platforms used worldwide by numerous schools, colleges, universities, government organizations, charities and corporates alike, is an eLearning platform that has endless possibilities. You can bend it to match the exact needs of your learners and it is this flexible nature of Moodle that makes it such highly sought elearning platform. Be it building multiple online courses, imparting interactive learning activities, collaborating on online communities or social sharing, Moodle's your platform!

Now that you've zeroed down on using Moodle for your training needs, next step would be to hire the right Moodle service provider. One that would best meet your training needs and specifications. And we know it's a daunting task, given the proliferation of Moodle service providers. But, you have to be wise when selecting one because you'll stumble upon many Moodle services providers who'd promise services that are too good to be true. Be aware of such service providers!

We are giving some tips for you to choose the best Moodle service provider for your organization!
1. Draft a good RFP (Request for Proposal)
Be crystal clear on what you want in terms of your training needs and put it down on a piece of paper. Next, download an RFP template! Yes, there is a proper format for an RFP! The template you choose should enable you to document your exact needs and specifications, in order for the vendor to clearly understand your requirements and caters to it correctly.
2. Look out for Service Providers on the Internet!
How would you do that? Put in the right keywords in the search engine search bar. For example – 'How to choose the right Moodle service provider', 'choosing the right moodle service provider' and so on. Pick up the top 5 rankers. Many a times, you would get results from Moodle.com or Moodle.org directly. Skip those and jump onto the next URLs. These are the ones you should consider, given they are ranking for your keyword. And trust us, ranking on search engines isn't easy. It takes a whole lot of domain expertise and hold on the said topic to beat the search engine race. So, the ones you'd be looking at have already participated and won the search engine battle. Hence, you can shortlist these as your starting point!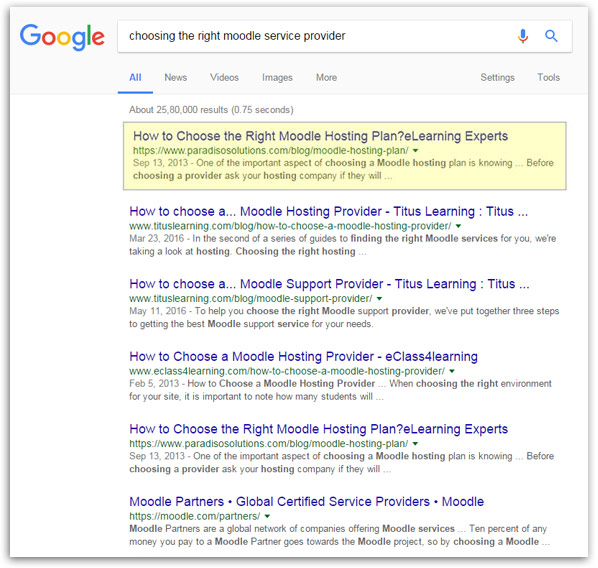 3

.

Check the Client List of your Shortlisted Moodle Service Providers
You do not want to go with service providers who'd learn at your cost. You want a service provider who has serviced a versatile list of clients, who are in the similar industry as yours. Just one thing here, don't look out for very big names in their clientele, sometimes the service providers have the best of experts under them, but big names require bigger criterias to fulfill, and hence the smaller to mid level Moodle service providers miss out on bigger names. And that by no means is a marker to not being experienced or not knowing the product or the market. Remember, all that shines isn't gold every time.
4. Entrust your Project to Seasoned Professionals
Once you've shortlisted a few of the Moodle Service Providers, go to their website and check the 'about us' or the 'about team' page. Check the experience of their senior management, while checking their grounding in terms of expertise in the field of learning and development. A team that has a sound technical expertise in eLearning (for example – authoring tools) will be able to cater to your training requirements in a much better way. Check for the mission statement and vision of the company. One that has a customer-centric approach is the one should try considering.
5. Go through their Website Thoroughly
Scan your shortlisted Moodle Service Providers' website thoroughly. Many a times, it's the organization's website that can provide a valuable insight into the quality of service they can offer. Have a look into the case studies to understand what sort of projects they've undertaken and how they've provided a solution to their clients problems. Look at client testimonials if there are any. Have a look at their blog to see the type articles they've written. All these will help you understand the Moodle service provider's capability in handling your needs.
6. Ask for Demos, Free Trials
Seeing is believing! Ask the Moodle Service Providers for demos of Moodle Installation and other nuances like creating a course, uploading course content etc. Ask for free trials of Moodle. All this will help you judge the service provider on their capabilities to handle projects, assess quality and check if they can meet your needs. Willingness of companies to do this shows their commitment towards providing quality service.
At Paradiso, we have many years of experience working with Moodle and various other LMS. Please contact us for demos of any of our Moodle integrations or need free consultation for your LMS project.
Call us at +1 800 513 5902 or email us at [email protected]