On-Premise vs Cloud LMS comparison: 7 things to consider when choosing

Much of the success of any training program has to do with the resources that the company or institution makes available to its users. Understanding the relevance of acquiring an LMS system that is hosted on your servers or in a private cloud is key before deciding on one of these options. To clarify this issue, we have made an On-Premise LMS vs Cloud LMS comparison.

Either of these two options is equally effective in terms of functionality. The difference lies in the specific needs and requirements of each company or institution.

It is essential for you to know the characteristics of each platform, the services that it offers, the capacity of its servers, the quality of the technical staff, support and, of course, the reputation of the company. However, there are key issues that can determine if you need an On-Premise or Cloud LMS system.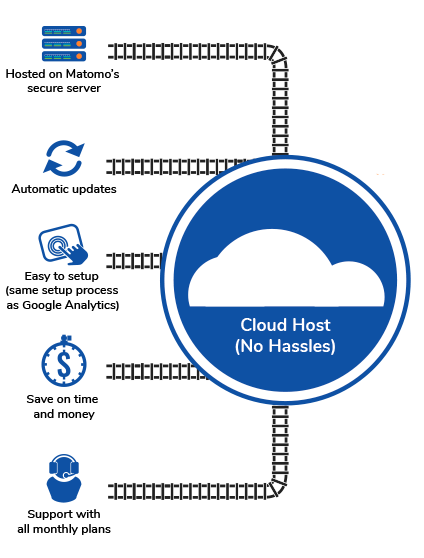 An On-Premise LMS is a system that you purchase with the entire code and features for you to implement and work with it in your own servers. This option requires one only pay and the system updates afterward must be paid each time a new one gets out. On-Premise is usually more customizable, and offer greater control over the implementation process and the LMS data. The entire data security would lie with you and not in some random cloud.
You have to keep in mind that once you make changes or edit the code to personalize the On-premise LMS, sometimes you can lose the guarantee gave by your LMS provider. Also, if your server crashes, you are the only one responsible to fix it and make it work again.
The implementation and set up for a Cloud LMS is directly from a private cloud that usually the LMS provider has available for cloud users and, since this type of LMS is hosted in an external cloud, is notoriously more affordable. A Cloud LMS is a great choice if the budget is limited but the training necessities require a strong LMS software. The features of Cloud LMS allow access from mobile devices and the content will be more accessible for the users as it is permanently hosted in the cloud.
A good thing about a Cloud based Learning Management System is that you don't have to worry about anything that has to do with the Cloud. The LMS provider has to make sure that your LMS works correctly all the time. That's why is very important to select the right eLearning Company that offers you an excellent product and also great support.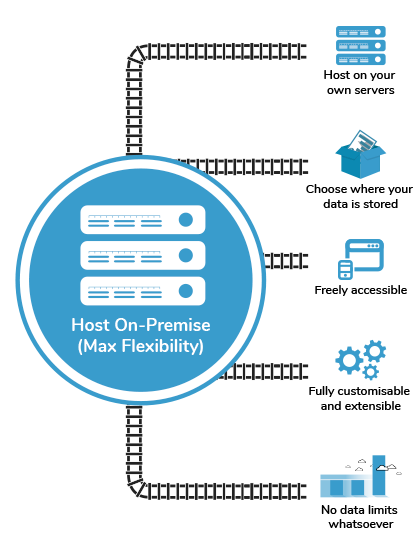 On-Premise LMS vs Cloud LMS comparison
1. Accessibility:
Depending on the type of training needed, it may be more relevant to acquire a cloud solution or to host the LMS system on your own servers. Cloud LMS is a more portable system, with the ability to be used anywhere thanks to its mobile abilities and the fact that the information is hosted in the cloud.
An On-Premise system, on the other hand, is useful for companies whose content manages a higher degree of complexity, has higher security specifications or requires that the information and implementation of the software be from a server for compliance training, for example.
2. Availability:
 It is important to be clear about the development time for each specific case, sometimes the availability of the platform for its use may vary depending on the complexity that is required in terms of integrations or custom work.
If the system needs to start operating urgently, the best option is to acquire Cloud LMS since it will be available for use and implementation almost immediately.
On the contrary, if what interests you for your company is to maintain high-security protocols in terms of the information that you manage from your employees you should opt for an On-Premise system. This option not only deals with security requirements, but On-Premise LMS is also ideal for compliance training, with features such as course authoring, multi-tenancy, game-based learning, competency based, consulting and advisory, custom content for eLearning courses, etc.
3. Storage:
Ensuring how much storage space you have for the implementation of the LMS system will let you know which is the most appropriate option. If you have little space within your servers, definitely opt for a Cloud or SaaS LMS solution.
On the other hand, if you have enough storage capacity and want your LMS solution to be implemented alongside with the other software programs you must acquire On-Premise LMS.

4. Customization:
The amount of custom work that your LMS solution needs is also an important factor when making a decision. If you require an LMS heavily customized, with special developments and integrations for your company, you must choose an On-Premise solution, as you can customize it deeply and maintain the LMS system within your own servers.
5. Maintenance and Support:
Consider the amount of support you will need for the implementation and use of the LMS. With Cloud LMS, you will receive in-depth technical assistance as the LMS system is still on our servers.
With an On-Premise solution, on the other hand, you must take charge of the platform support and deal with any eventuality that may arise.
6. Security:
Security is a key factor in an automated process. Many times, it is possible that due to the type of company or the information that it handles, it prefers On-Premise LMS to have control of the information that is shared in the network. Likewise, it is important to think that in case of any failure in your servers, all that information can be lost, while implementing a SaaS or Cloud LMS solution, you will have the security that gives you a high-quality server, such as the case of Paradiso LMS that uses AWS services.
7. Cost:
With a Cloud LMS you are more likely to know the exact cost of the LMS as there will be no extra costs associated with maintenance or upgrades. In an On-Premise solution it is more complicated to make a projection of the real cost because between implementation, hidden costs and operating system updates there may be certain costs that cannot be predicted.
Broadly speaking, the cost of a Cloud LMS may seem more favorable in every way. Its reach capabilities and hosting services allow for considerable and effective savings. However, for large companies or institutions that require an LMS system with high customization and branding capabilities, it is significantly more convenient to have an On-Premise LMS from where they can exploit their full potential.
With this On-Premise vs Cloud LMS comparison, you will be able to define the path to take in the eLearning journey. Paradiso LMS is available to purchase both On-Premise and Cloud LMS. Send an e-mail to [email protected] and book a demo now.