Aligning Salesforce with Your Sales Training Goals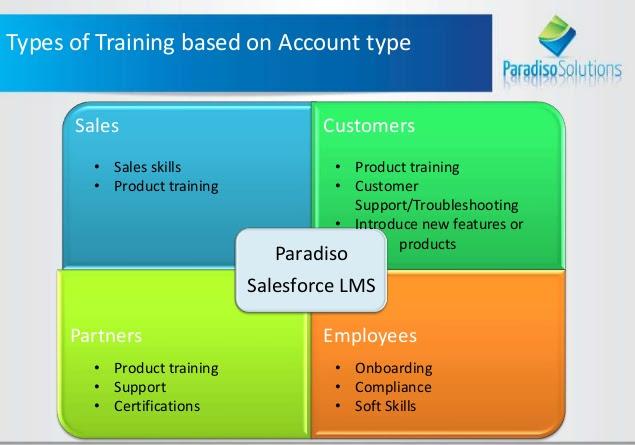 Fifteen years ago, "Sales Training" primarily consisted of removing your sales team from the field for classroom training and instruction. At times, these training "sessions" could last anywhere from 3 to 4 days. For new sales hires, this on-boarding process could take weeks. New product launches have typically been handled in the same manner, whether they take place during annual meetings or at a company quarterly business review. These "data dumps" are usually ineffective because of the amount of content/information given and the inability to quantitatively measure what has been learned or retained.
Additionally, we have seen a significant change in how we engage with our customers. With the rapid evolution of cloud-based CRM systems such as Salesforce.com, we have more insight into our customers than ever before. CRMs such as Salesforce are used to manage almost all aspects of our interaction with our customers. For sales teams specifically, it is where they manage the entire sales process and spend much of their day. With the advent of online Learning Management Systems (LMS) we have seen a shift in how training is being delivered. However, for most sales teams or organizations, LMS are the domain of Human Resources or a training department, but remains within that specific organizational silo, existing in parallel but not fully integrated. A new paradigm is beginning to take shape that seeks to integrate both solutions within the Salesforce environment.
By integrating a Learning Management System with Salesforce your salespeople can gain a competitive advantage. With the advent of just-in-time training, companies and sales teams need access to information in real time.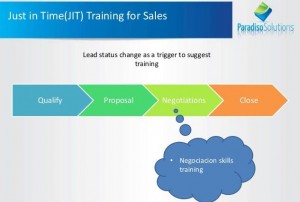 Paradiso Solutions offers a complete solution that integrates and is embedded within Salesforce.
A few considerations when integrating Salesforce with a LMS training platform.
*define clearly the sales process
*sales training – specific and targeted
*fully integrate CRM and sales processes/training
For example, a new opportunity is created within Salesforce in excess of $500,000. Because of the size of the opportunity, specific pre-set "triggers" within Salesforce would provide the salesperson with relevant information, such as a document or guide to selling large opportunities. A trigger could be established for a specific product and when a sales opportunity is created, a sales video for that specific product would be at the salesperson disposal for review and reinforcement. By adding Salesforce sales training, learning and reinforcement becomes a continuous process.
The result of integrating salesforce with your sales training will:
Reduce the sales cycle
Increase closing ratios and deal sizes
Create a more knowledgeable and effective sales team.
Happy selling.
About Us
At Paradiso Solutions, you can find the right combination of technical excellence, outstanding design and effective strategy, all this to serve clients across the globe. We utilize both continued technical and intellectual education to enhance each project brought to us, placing our clients into the world of technology with class and exceeding their expectations. We focus on building quality  e-Learning platforms, mobile applications and course creation.
Call us now at +1 800 513 5902 to talk with an LMS expert today or email us here!