How Starbucks and Dunkin' Donuts use Mobile Apps to Leverage Business?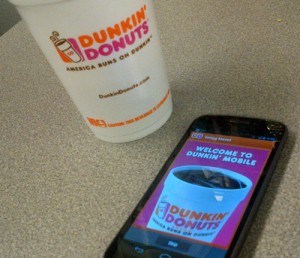 Whether you call it a revolution or just simply view it as natural changes in technology, there is no denying that the way we conduct business has changed. Take for example, two of the top restaurant chains in the U.S: Dunkin' Donuts and Starbucks. These two giants have both launched mobile payment apps, where customers can pay for their purchases by displaying a QR tag on their mobile device, and the amount will be deducted from their account, in a similar manner to a physical card. The Dunkin' Donuts app also contains a tool to direct users to the nearest Dunkin' Donuts outlet.
This type of technology has been looked upon very favorably by stores since the launch of Google Wallet in September 2011. Android and iOS owners were the first to avail of this technology, with BlackBerry joining the other two at a later date. Dunkin' Donuts also sought to increase their business through creating mobile gift cards for their customers. These gift cards operate in the same way as physical gift cards, (with a maximum value of $100) but they can be sent through digital texts, Facebook messages or through email.
The biggest beneficiary as a result of mobile payment technology has not been the user but in fact, the businesses themselves. Now customers can purchase their coffees etc. when they are not carrying cash. Businesses have undoubtedly also benefitted from increased sales as a result of the novelty factor customers enjoy when using this new technology.
No matter what technology is used, whether it is bar code, near-field communication (NFC) technology or Bluetooth 4.0, the truth is that people are veering towards this mode of payment in an energetic fashion. As time goes on, leveraging business through this mobile technology will become relatively cheaper and will not require as much investment. Although the technology may need to be updated, it will not need to be designed from scratch again. There are also more companies entering the market and this competition is driving down the cost for companies seeking to offer their customers this mobile payment option. Considering McDonalds are set to join the trend in mobile payment after the water had been tested by their rivals it really does appear to be a profitable business. Are we coming towards a time when the digital wallet is more preferable the physical wallet? Will credit cards become nothing more than a memory?