TOTARA vs MOODLE – WHICH IS THE RIGHT CHOICE FOR YOU?

Anyone who has spent even a fraction of time looking into the world of elearning and the learning management system will have come across the rather abstract names of Moodle and Totara. Both are open source LMSs which is used by million of people worldwide and is 'free' to get hold of. The word 'free' can mean various different things when it comes to an LMS (more on that later) but in the age-old battle of Totara vs Moodle, everything counts.

The best explaination for Totara vs Moodle (apart from the funny names) is that Moodle was originally developed to be a free alternative for educators to create elearning content, with a focus on collaboration and continuous development and evolution, whereas Totara was conceived as an enterprise solution for organizations rather than education. Moodle has gone through a number of iterations in its 15 year trajectory – from Moodle 1.0 in 2002 to version 3.0 planned for November of this year – to varying degrees of success and acceptance.
TOTARA VS MOODLE: FREE OR NOT SO FREE?
It is indeed 'free' to download the Moodle source code, but the gray area of true cost lies with how much Moodle will cost you to get from downloading it to the point of having an LMS that works and that you are happy with. Moodle isn't for everyone, despite it's features, and more often than not requires a considerable amount of in-house development before it can be unleashed on your learners. If you have the resources to spare, access to good developers who know their way around an LMS and plenty of time, then Moodle in its seemingly endless configurations could be what you are looking for.
However, if you are looking for an off-the-shelf elearning solution for your organization then Totara may be it. It is a popular custom version of Moodle, which remains open source, but with a few costs tacked onto it. Moodle was designed with education and mind, and Totara to cater to the needs of organizations, so again individual needs come into play when considering the question of Totara vs Moodle.
TOTARA VS MOODLE COMPARISON TABLE 1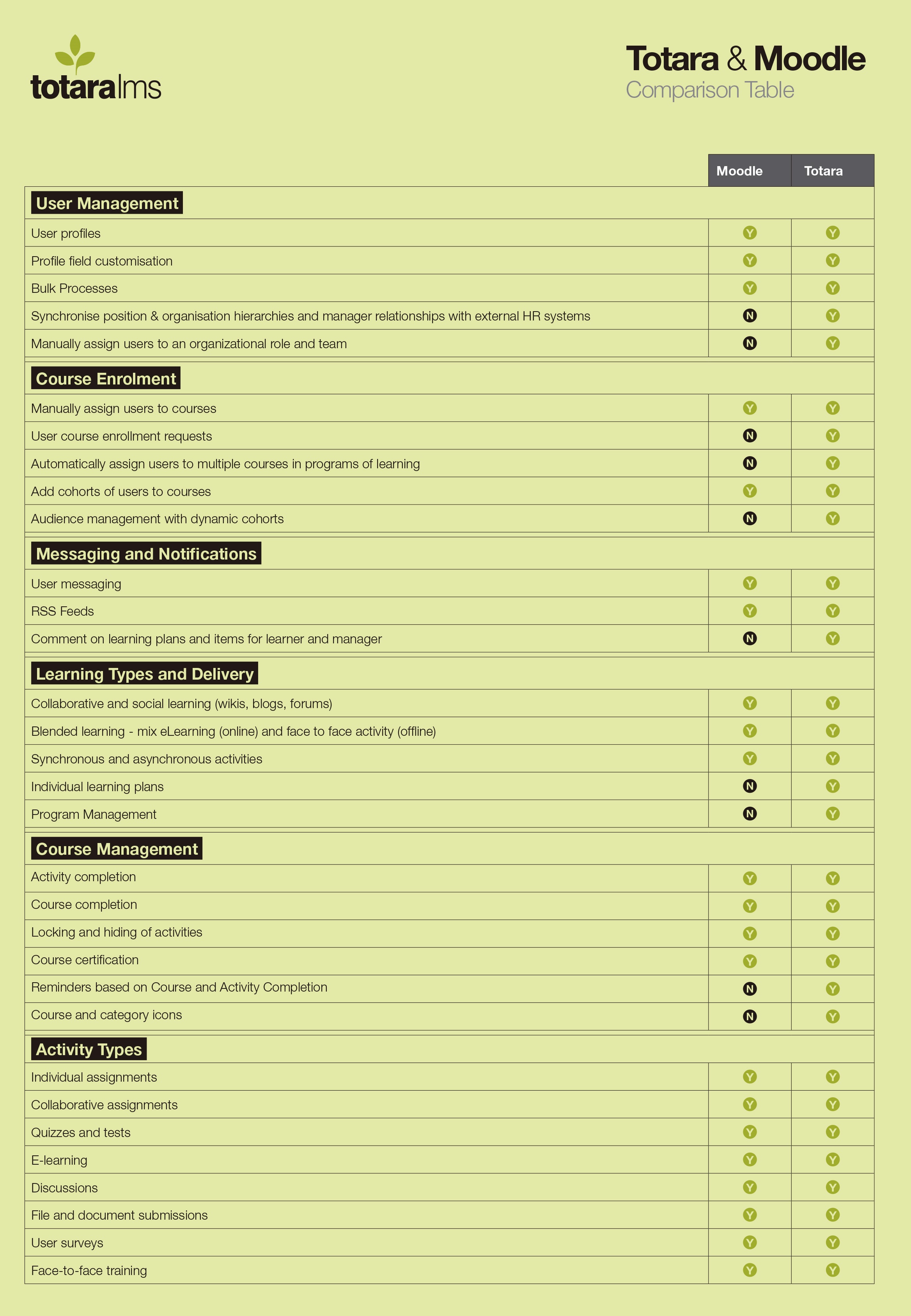 HIERARCHIES IN THE TOTARA VS MOODLE SCENE
One difference that really sets Totara apart, and which we have adapted in our own LMS – Paradiso LMS – is the ability to set up hierarchies for your organization. This feature, relatively redundant in the context of a university or school, is key for an organization as it means that specific training and learning paths can be auto-assigned based on the learner's position, geographical location or department.
TOTARA VS MOODLE: MULTI TENANCY
A feature that is fast becoming a staple of third-party LMS developers is muti tenancy. Even though this is not a standard feature of Totara, Paradiso Solutions has developed a plugin which makes multi tenancy possible. For those unaware of this multi tenancy means that, with one single LMS license, an administrator can set up a number of 'tenants' which can reflect different departments, partners, vendors or customers, each with their own branding and unique access. Multi tenancy is not supported in Moodle, which could be the kicker if you are a large organization with departments located in different locations, or channel partners that require their own personalized learning environments.
TOTARA VS MOODLE: COMPONENT OVERVIEW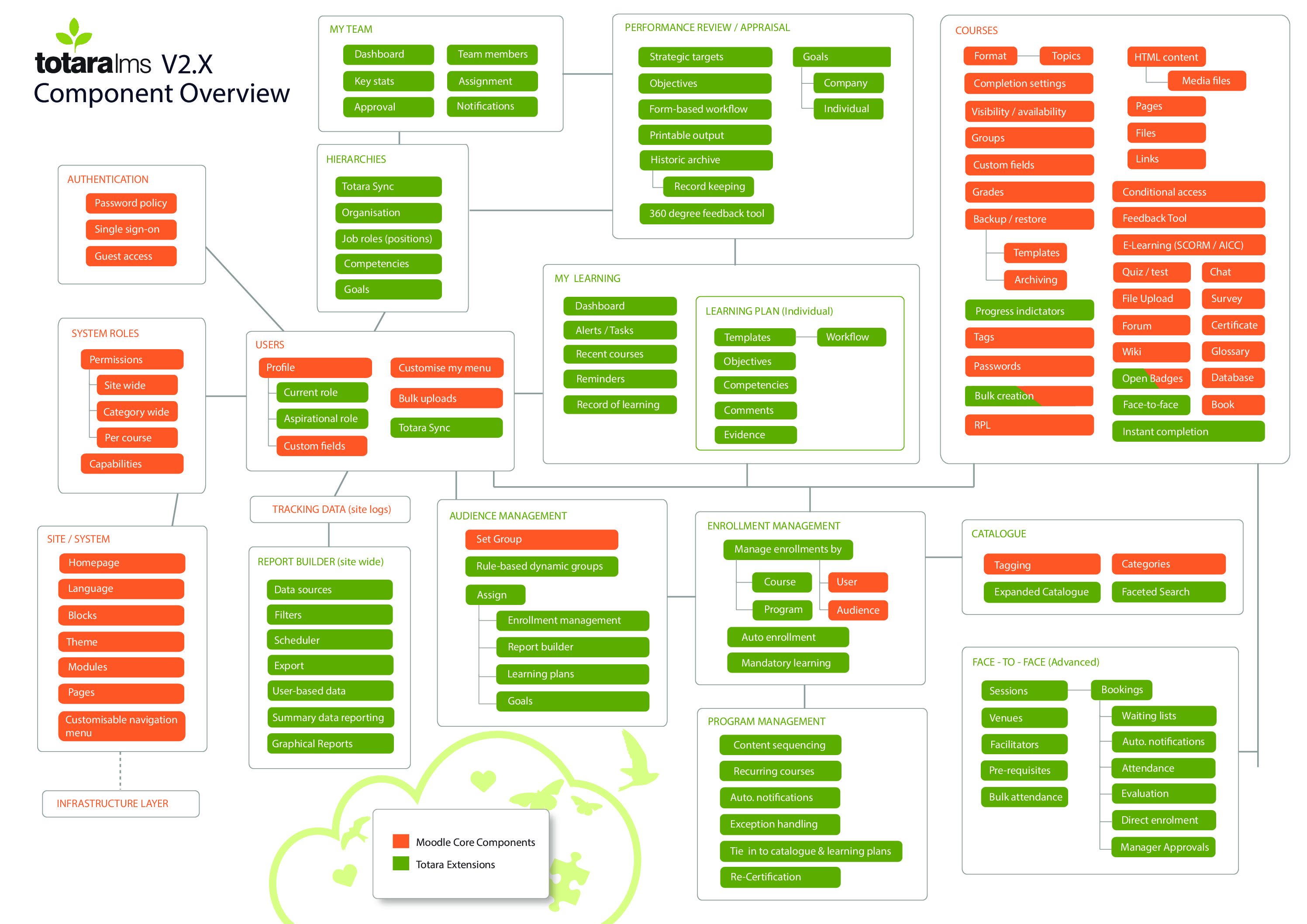 TOTARA VS MOODLE : LEARNING PATHS AND COMPETENCIES
Learning plans are an important facet of an enterprise LMS, and are sadly absent from the basic Moodle code. The ability to define which courses should be taken for individuals or a group makes a huge difference within a corporate context, where particular roles and positions require varying combinations of courses and material unique to them.
Linked to the learning plans are 'competencies', a feature of Totara missing from Moodle. Competencies are like learning plans in that they are a set of courses that must be taken in a specific order to progress, and can be signed to a certain job role or organization. Competencies define the skills and knowledge required for assessing staff performance, and may include activities that fall outside of formal learning, such as reading a relevant book or watching an important video.
TOTARA VS MOODLE: APPRAISALS
The ability to provide a learner with feedback and help them to understand where they are performing well and where are their areas for improvement is crucial for any organization if wants its workforce to develop. Totara have recognized this and made Appraisals a big part of their offer, allowing administrators to create custom Appraisal forms which are unique to the organization.
TOTARA VS MOODLE COMPARISON TABLE 2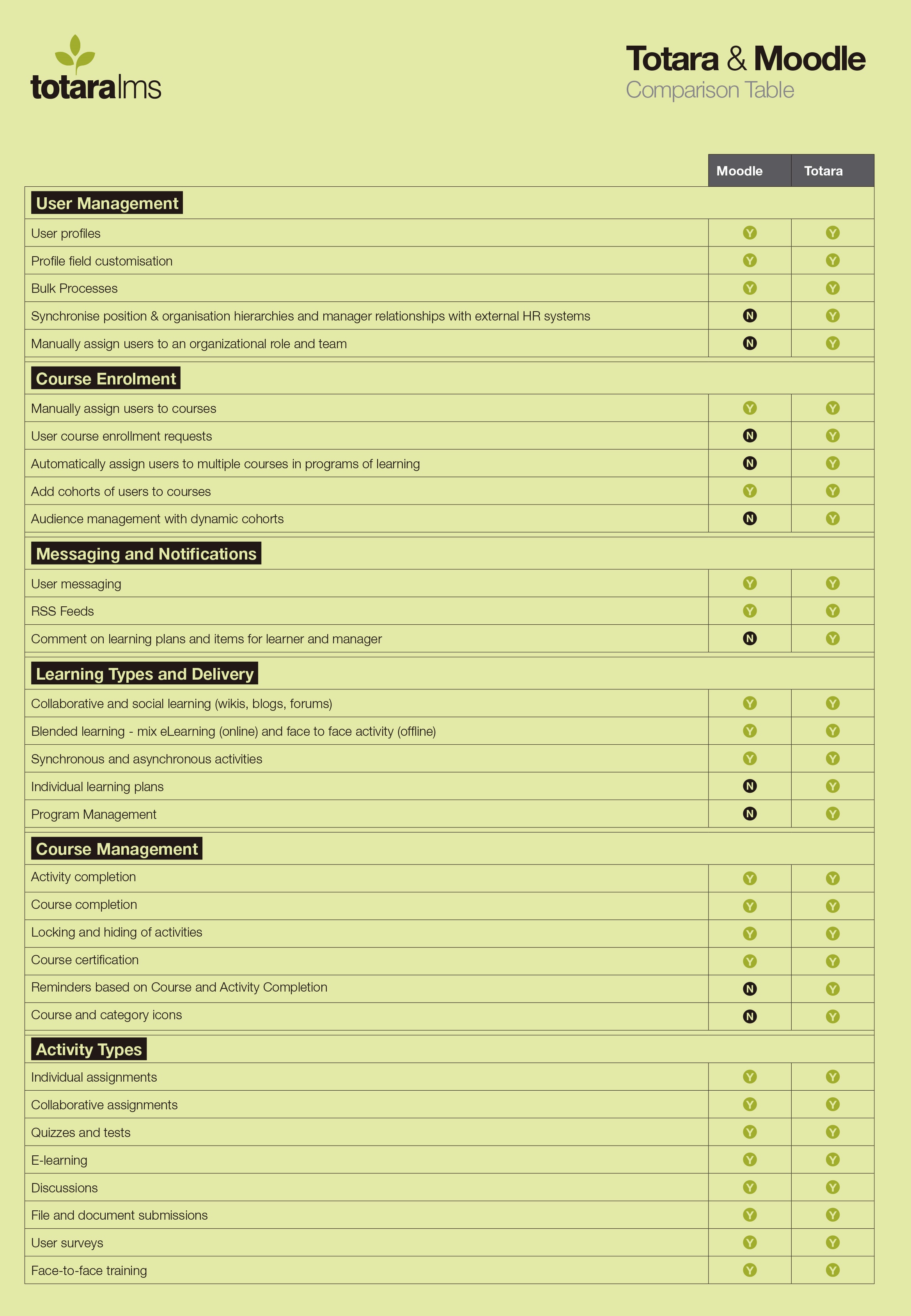 Reporting in Moodle is relatively basic, with administrators being able to request reports which tell them which courses have been accessed, when they were accessed and by which users. In what could be a decider in the battle of Totara vs Moodle, Totara's custom report builder has been designed to give the administrator a complete overview of a how much time a learner has spent on the system, their progress and their achievements.
TOTARA VS MOODLE : CHOOSE THE BEST FOR YOUR ORGANIZATION
Within the context of Totara vs Moodle the question really comes down to your needs and budget. What features do you need, and how much are you willing to invest in ensuring your employees or students have access to the necessary training and resources? It is hugely important to be aware of the work involved with turning Moodle into a workable LMS, let alone one that is customized to your needs and matched to your branding and identity. Are you an educational institution or an organization? Moodle was designed not for enterprise, but so that educators could have access to a platform that allowed them to track and monitor learning within their own institutions. Totara, on the other hand, is a heavily customized and enterprise-ready LMS which caters specifically for the needs of businesses rather than education.
Totara vs Moodle, solved or not? You can get the best of both the worlds with blended Learning Management System –Paradiso Solutions.