Allow users Single Sign On into Paradiso LMS with Onelogin

To make the Paradiso LMS administrator's life easier and our product more efficient for everyone using it, our latest version of Paradiso LMS supports SSO with Onelogin.

The way it works is, the user provides a set of credentials to an Identity Provider (IdP) once and then lets the Service Provider (SP – which is us) to request the identity each time that user needs to be authenticated.

In layman terms, we the service provider would trust the Identity Provider (IdP) to validate a user's credentials and when a set authorization token would be sent back, our LMS would let that particular user in.

The exchange of authorization data between Paradiso LMS and Onelogin happens over SAML (Secure Assertion Markup Language).

In the video, you'll be able to see the login process from OneLogin (Identity Provider). This type of login is commonly referred to as IdP-initiated login. Here, OneLogin maintains a huge list of SSO-enabled web applications and one of them is Paradiso LMS. What happens usually is the user logs in OneLogin and clicks on the Paradiso LMS App tile in the App library.

Enabling SSO for Paradiso LMS proves time-saving and reaps financial benefits.
Your users don't need to remember an excessive number of usernames and passwords. Just one set is enough to access various software in the organization's network. Password fatigue.. Yeah, that's what we call it.
Considerable rise in productivity just by the simple avoidance of usage of multiple passwords.
Reduced burden on the IT due to fewer help-desk requests for password resets.
Centralized authentication center and identity management allows quicker and better control over the accesses granted to each user.
Compliance reporting in LMS becomes easy with the centralized access control brought forth by Identity Management system like OneLogin.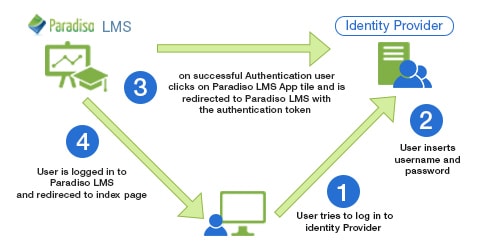 Ask us more about it, our experts would be more than happy to help you.
You can ask for a demo or get a free trial. You can also send in an email to us at [email protected]