Sales Training Platform, Sales LMS in the Cloud

Sales Training Platform Background

The Cold Hard Facts

Regrettably, sales training is one of the most disposable investments a company can make. While estimates are varied, it is generally accepted that between 70% – 90% of the skills imparted to a salesperson during a sales training event are lost inside of 30 days if the learning is not quickly and consistently reinforced. Given such a dire forecast, one might think that companies would ensure that quality reinforcement is occurring; however, significant obstacles to knowledge transfer and retention exist.

Sales Training Platform: Information Overload

The primary obstacle is the incredible amount of content that is disseminated during any classroom training programs and events, which is overwhelming to salespeople. Because of the expense to pull a sales force from the field, sales management is motivated to force a year's worth of learning into a single event. To maximize their investment, it is not rare for sales organizations to have up to 5 day sales conferences where sales and product training is the primary activity.

Unfortunately, if new skills are not reinforced quickly, they begin to erode at an alarming pace. Ideally, training should be given in close proximity to the need for the skill or better still, Just-in-Time triggered learning or training, not simply when it is can be fit into the corporate calendar.

What is a better solution? A cloud based sales training platform

Perhaps you have been looking at a new sales training platform or a sales LMS. However, past experience with proprietary, locally installed platforms has given you pause. Perhaps you have become accustomed to weeks of testing the software when there are upgrades or must ensure it properly integrates with your other software platforms, such as your human resources (HRIS), customer relationship (CRM) or talent management system.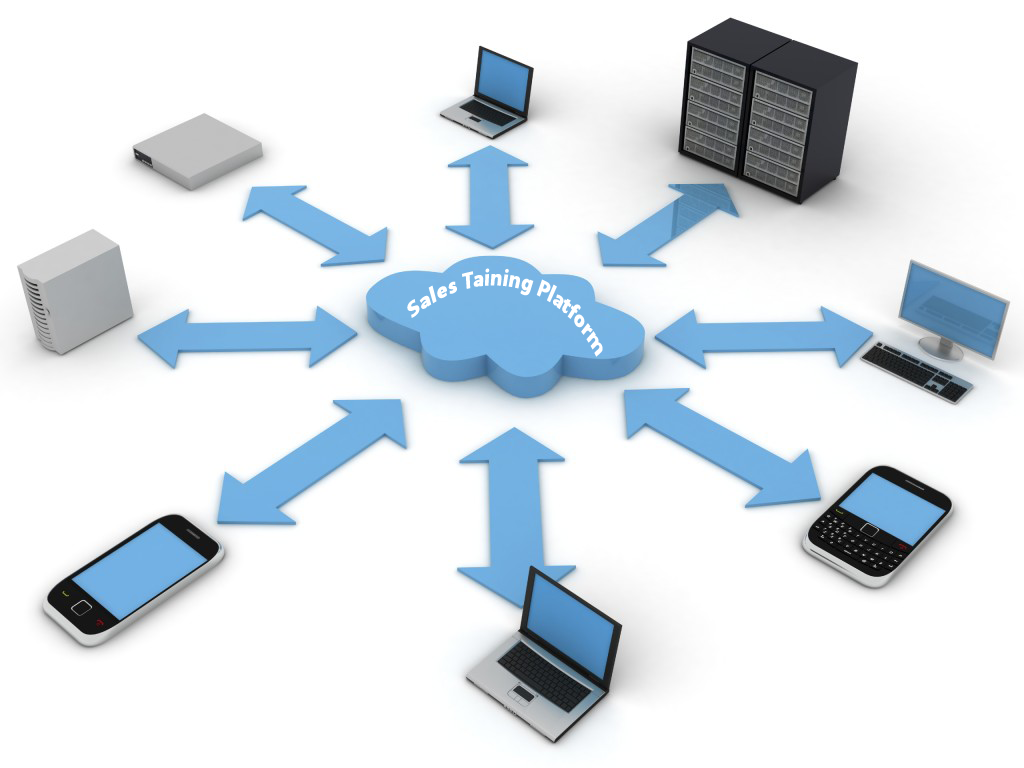 Cloud-based sales training platforms and LMS have inherent advantages over legacy platforms. They allow IT resources to be used more efficiently and productively and your sales team has the ability to access it anywhere, anytime, and from any device. For a distributed workforce or sales team, a cloud based training platform is often the only solution. For sales trainers, cloud based sales LMS training brings with it a greater ease of instruction, which results in more impactful and persistent knowledge transfer.
For organizations, cloud based training offers more flexibility, because sales training can be opened up to partners and in some cases even customers. Because cloud based training platforms can be accessed at any time and from any device, it has given rise to "just in time" or JIT training, which delivers knowledge on demand, precisely when it is needed.
A Just-In-Time Approach
What differentiates high performing and high functioning sales organizations from the example above is that they have implemented 'Just-In-Time' delivery to their sales training, where information, knowledge transfer, and skills are focused on specific events that are tied to sales activities. Consider delivering "training nuggets," that are tied to specific events in the sales process which are easily digested, remembered and will be used in the actual sales process.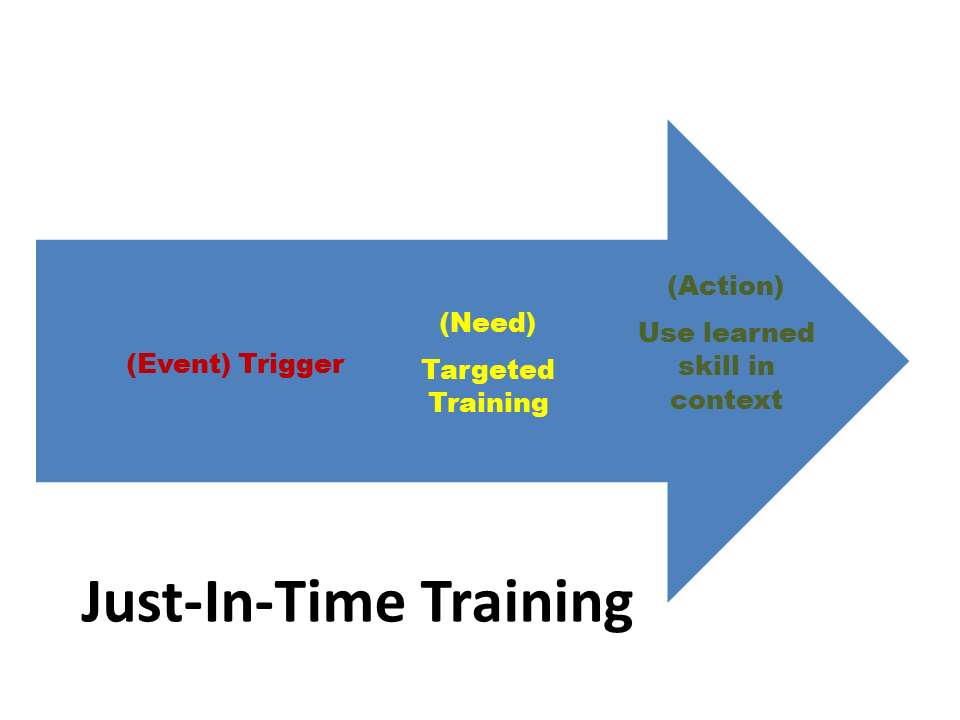 For example, employee on-boarding is often conducted in the same manner as sales training, by inundating the new hire with information, which has about the same rate of effectiveness as the statistic above. By timing the training to coincide with specific event triggers the skills and knowledge are used in context.
Increase Your Sales
Chances are you already have a Customer Relationship Management (CRM) system or platform. For a sales organization, a CRM system is the lifeblood of the company. From a strategic perspective, companies that rely on sales to sustain their business and fuel growth typically implement a CRM such as salesforce.com to drive growth, accelerate the sales cycle and increase closing ratios…all while decreasing costs. However, what many sales organizations come to realize is that their CRM only helps with what is has been designed for; as a "Customer Relationship Management" system.
Motivational speaker and Life Coach Tony Robbins, recalled his experiences when his company implemented a new CRM, specifically salesforce.com. "One of our primary concerns was to ensure the RRI (Robbins Research International) pipeline of opportunities didn't experience a downturn while people were trying to figure out how to sell using a new CRM. The simple truth is that "technology DOES NOT equal growth."
Implementing salesforce.com and conducting user training created a "platform for growth." However, there was something still missing. That missing link was behavioral integration and transformation, which established our "engine for growth." Like many companies, we were concerned with how to transform our culture while maximizing the advantages of our investment.
After implementing salesforce.com, we quickly realized that our organization needed to undergo a cultural transformation that started with integrating new selling behaviors. User training was good, but it just wasn't going to get us the results we needed. To change your culture, you must transform behaviors."
What piece was missing? A sales training platform or sales LMS. The solution was to integrate a sales training platform with his CRM (salesforce.com), which provided training to his sales team, as well as providing a platform for his clients.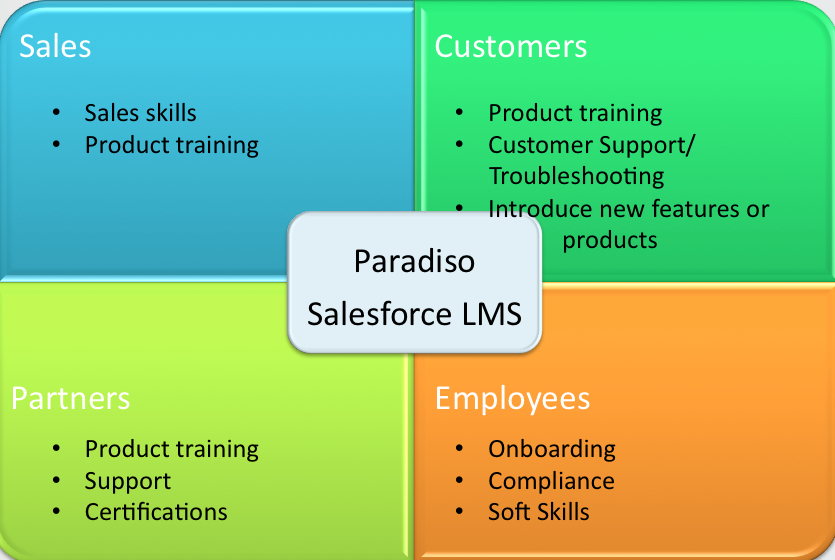 Final Thoughts
The key of any sales training program is to enable your sales team. Training will always be a significant investment for every salesforce, but in today's business environment you must protect your investment. By implementing a sales training platform or solution, that users can access anytime, anywhere, by any device, you are giving them the tools they need to succeed. An even better solution for a sales organization is to integrate and incorporate training and learning that are tied to sales milestones in your CRM system. With technology changing at such a rapid pace, sales organizations that fail to implement sales training solutions will more often than not find themselves on the outside looking in.
Sales Training Platform: Moodle LMS and Salesforce Demo (Intro)
Leveraging the power of LMS and CRM integration
CALL us now at +1 800 513 5902 to talk with an LMS expert today, EMAIL us here or CHAT by clicking on the bottom RIGHT side!