LMS CRM eCommerce – A powerful system that increases the sales of your online courses

Are you thinking about selling courses online as a business? Yes? Good move!

You're tapping into an outstanding business opportunity. The market for selling online courses is getting bigger by the day.

Is general public your target market or want to train your channels partners, group of companies, vendors, customers etc., about your product or services?

Let get down to the nuts and bolts of how you can use the LMS CRM eCommerce mix to create, market, sell your courses and to squeeze a better ROI out of the process. This article will tell you how the integrated whole of LMS CRM eCommerce, is bigger than the sum of its parts.

First, lets understand the features of these software individually –  
| eCommerce | CRM | LMS |
| --- | --- | --- |
| Coupons & Discounts | Dashboards | Continuing education |
| Inbuilt CMS | Approvals & Workflow | Interactive Video |
| Payment Gateways | Analytics | Authoring Tool |
| Shopping cart | Marketing & Sales Leads | Extended enterprise |
| Tax Automation | Community / Chatter | Reports |
| Social Media Integration | Forecasting | Gamified Content |
| Reporting on orders/sales | Marketing Automation | Virtual Classroom |
While, there are many other features of the 3 software listed above, we have highlighted just the ones that are useful from the selling online courses point of view.
Understand how LMS CRM eCommerce can help you get real-world results selling courses online
Scenario 1:
Selling courses online is easy. The difficult part comes in when there's a decision to be made to choose from hundreds of eCommerce solutions available.
Opt for a stand-alone eCommerce solution and you'll get that beautiful storefront you've always dreamt of, but you will soon realize that it falls short on the aspects of delivering and managing training. Solution? You need an LMS with eCommerce.
Scenario 2:
Same is the case when using a learning management system by itself in isolation. You get to create, manage and deliver training, but when it comes to selling the same courses, applying exhaustive eCommerce functionalities, an LMS just doesn't cope up to the extent you want.
Scenario 3:
You have both, an LMS and an eCommerce solution. As you wade your way through selling your courses, you realize that audience 'A' is accepting your course 'X' better and a different audience 'B' is consuming course 'Y' like how. You are looking out for a way to automate upsell of your related courses. Plus you want to have all your customer/learner data saved in one place as contacts/leads so that your sales guys can connect with the right ones at the right time.
Here, you need a CRM.
So, if you seek to sell courses online, just an eCommerce portal won't suffice. You'll need to add in an LMS and a CRM. Trust us, the way this integration works will surprise you. It'll be a robust machine that'll help you reap maximum benefits out of your LMS-CRM-eCommerce investment.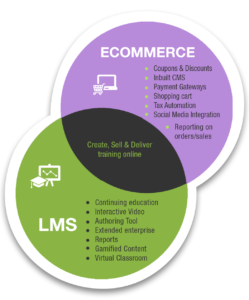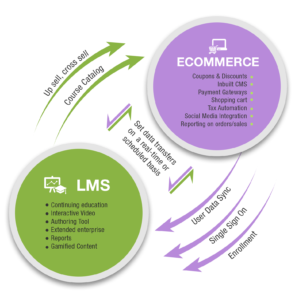 Scenario 4:
You already have a CRM and an eCommerce platform, and are thinking of starting an eStore to sell courses online? You'll need an LMS here… no two ways about it. Without an LMS to support, selling training is like decaf coffee that tastes bland, but gives you a psychological satisfaction of having a coffee.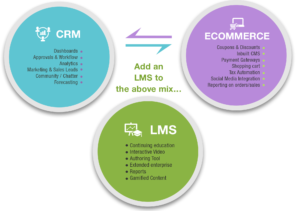 Scenario 5:
You have been training your internal employees successfully with an LMS – CRM integration and now want to spread out by starting to sell some of the courses to your clients, partners, customers or vendors, i.e. external training. Here, adding an eCommerce software is the only option to opt for.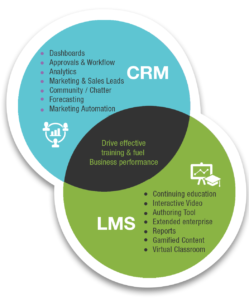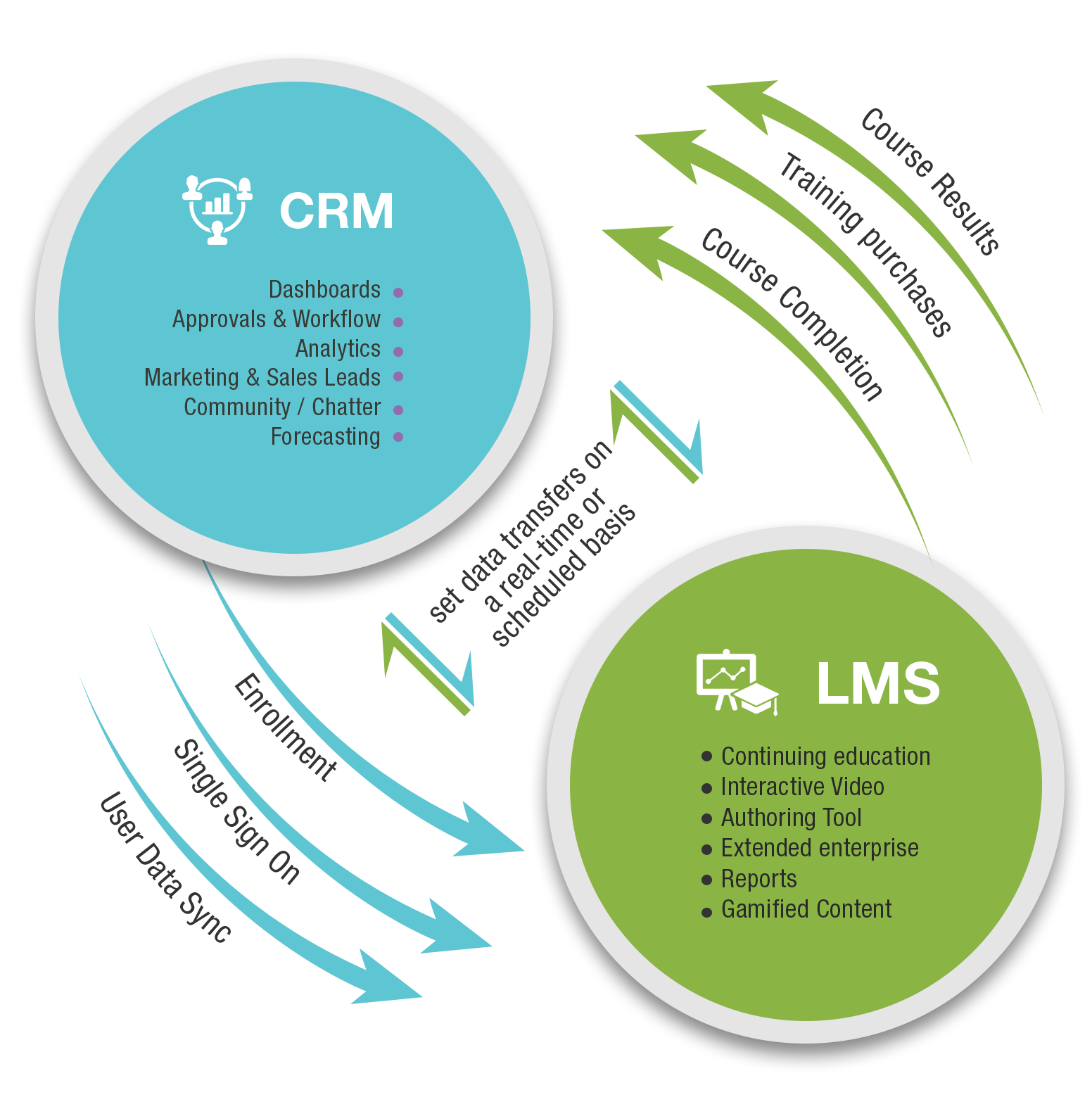 Scenario 6:
Want to sell courses in an extended enterprise infrastructure? No problem! Get the LMS-CRM-eCommerce mix working with your partners, channels, group of companies etc., and sell courses like there's no tomorrow.
So, if you want to sell training online and fit into any of the above mentioned scenarios, get going with implementing the powerful trio of a CRM, LMS and an eCommerce portal.
The market of selling courses is very lucrative if you're able to provide a great content and reach your target marketing in the correct way. You'll open up a whole new realm of an extra source of income for your existing business.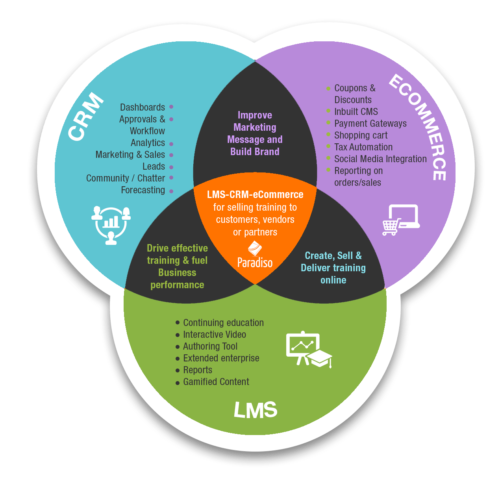 Benefits of selling courses online Pairing up with Paradiso
Single Sign On :
Get your customers who purchased the online courses immediate access to the courses stored in the LMS. There won't be a need for them to create a separate set of credentials to log into the LMS.
Automatic User Registration :
Your eCommerce users will automatically get enrolled in the LMS clients. You'll do away with the need to manually enroll new users to the system each time, which can be particularly tiresome in large businesses where the number of users is enormous.
Sell Individual or Bundled Courses :
Courses can be sold both, singly or bundled together as related courses, for ease of purchase or promotional pricing. This comes in as a useful feature when distributing training content during onboarding new employees, or when providing relevant training modules to different sectors of the workforce.
Advanced Tracking & Reporting :
Track all activities of your learners in the LMS with any-time access to the administrators. Not just this, version tracking of the course can be done to determine if the learners need a newer version of the courses. Besides, you can pull granular report that'll help you gain insight into the most popular and profitable courses.
Pricing Options :
You can implement subscription-based pricing models or can offer a bulk purchase / voucher based buying option for businesses who are B2B mainly and want to sell courses to their channel partners, vendors etc. You can easily give out discount coupons to your qualified target market.
White Labelled UI :
Your users won't be able to make out the difference in the user interface when jumping between the LMS and the eCommerce store. Everything would be appear seamless while browsing. This is called white labelling, where the look and feel is customized to match your brand's language to the hilt.
Frankly speaking, we don't have the space to enlist the features of our LMS and the benefits of integrating it with an eCommerce portal and a CRM for selling courses online.
Ask us more about it, our experts would be more than happy to help you.
You can ask for a demo or get a free trial. You can also send in an email to us at [email protected]