Set up you real live interaction sessions with Paradiso LMS Virtual Classroom integration

The best way to deliver your course, teach lessons, lectures, develop training activities or any other type of virtual content is using the virtual classroom integration. This feature will not only help you improve communication with your users, but it also has many advantages in its daily implementation and training processes in general.

Paradiso LMS Virtual Classroom integration is so smooth that your users won't even know where Paradiso LMS ends and the Virtual Classroom tool starts. This integration is one of the most flexible, live virtual classroom solution.

Also, it allows you to create an environment in which instructors and learners collaborate effortlessly on both on and offline instances. Virtual Classroom integration works with multiple video conferencing software like ZoomMettings, AdobeConnect, WebEx, GoToMeeting, among others.
How to set up your Virtual Classroom integration?
To explain the Virtual Classroom integration tool we will use the setup for ZoomMeetings Paradiso LMS integration. 
To schedule a Zoom Meeting activity in LMS you can follow the next steps:
Go to any existing course/ create a new course and click on "Add Content".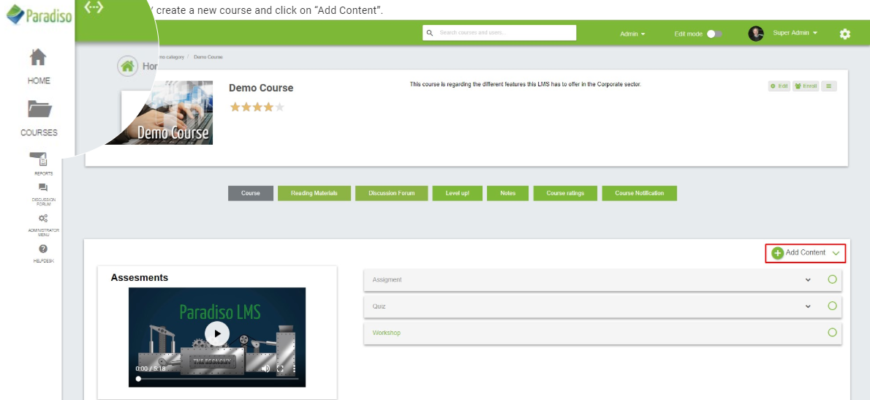 2. Search for "Zoom Meeting" from the activity popup or click "Virtual Class", then select "Zoom Meeting" activity and click on "Add Activity"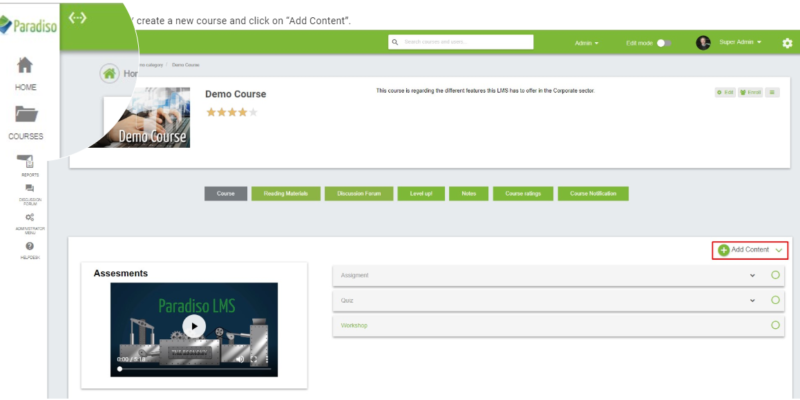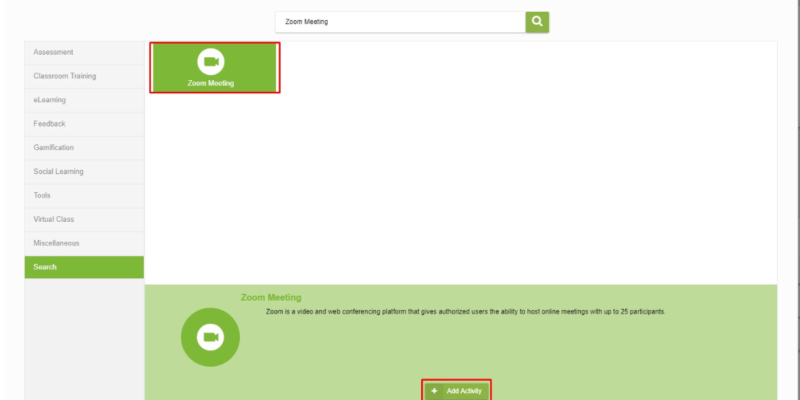 3. In the next screen, the next information will be required:
Topic:

enter topic/meeting name.

Description:

Add a description of your meeting.

When:

Select the date and time when the meeting is going to start.

Duration:

choose the time you are planning your meeting to last. It can be hours, minutes or seconds.

Password: If you want to require a password for your meeting's attendees to enter the meeting.
Host video: Select your host video preference.
Participants video: select your attendee's video preferences.
Audio options: Select your audio options to hear/ speak during the meeting
Meeting option: Enabling this option will allow your users to join the meeting before the host has started it.

4. In the Additional Advance Options, you have the chance to edit the Grade, Common module settings, restrict access and activity completion.

5. After clicking on "Save", you can see that the Zoom event has been created in the course.

When you start using the virtual classroom integration you're gonna be able to conduct interactive online sessions, where you can perform activities like sharing video lectures or host live chats; you can incorporate instant feedback into your training sessions or share many interactive eLearning activities. Paradiso LMS Virtual Classroom integration provides a unique face-to-face experience of online training.
Set up a demo to get a detailed tour on virtual classroom and many other exciting aspects of the platform by sending an e-mail to [email protected]