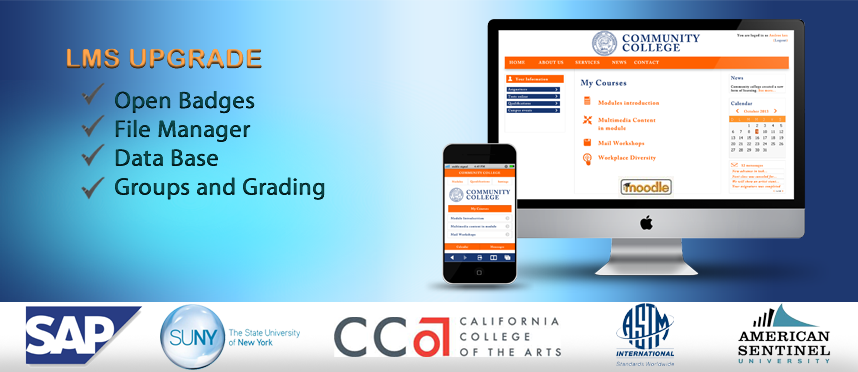 Upgrade to 2.X
Moodle is a Course Management System (CMS), also known as a Learning Management System(LMS) or a Virtual Learning Environment (VLE). It can be used in many types of environments such as in education, training and development, and business settings. Moodle™ provides a complete online learning environment with an emphasis not only in online collaboration but also including self-study, self-focus courses.
Safe and Secure 2.6 / 2.7 Moodle Upgrade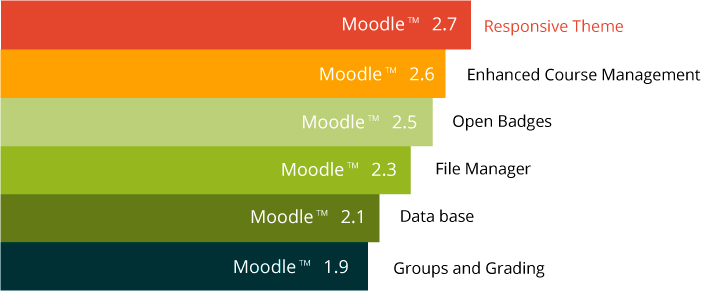 Upgrading Moodle to the highly anticipated Moodle 2.6 or 2.7 will supercharge your LMS system with a tonne of brand new core features, improved efficiency and functionality for an enhanced user experience, as well as hundreds of bug fixes to secure your system from hacks and crashes.

Why you should consider a Moodle 2.6 Upgrade:
Improved grading features:

Easily review and provide in-line feedback by annotating on PDF files directly within browser.
Conveniently allocate student assignments to different markers, and control when marks are released to individual students.
Certainty-based marking in Quizzes now provides improved feedback for learners.
Dynamic and streamlined course management:

Quickly edit course activities and resources across all devices.
Easily add a Single activity course format.
Enhanced platform management:

Create and manage bulk courses efficiently
Simpler course and category management
Simpler course and category management
Create additional name fields
Conveniently import and export role definition using XML file
Restoring of very large courses possible
Experience a better learning platform

A more user-friendly TinyMCE editor
Easily access files from Microsoft Skydrive.
Improved calendar handling with multiple calendar support
Simplified username and password recovery
Improved file management in TinyMCE editor Better responsive design across devices
Why you should consider a Moodle 2.7 Upgrade:
Atto, a new, simple-to-use editor: Our new Moodle editor focuses on usability and accessibility. TinyMCE is still available, but Atto will be the best editor for most people.
Modern appearance with improved responsiveness: Moodle now uses Bootstrap themes by default for improved responsive design and usability. Many small improvements have been made all through the interface. You can find more themes in the Moodle Plugins database.
Mathematics improvements: Atto features a new mathematical equation editor, producing TeX with a WYSIWIYG interface without needing Java. This means it works everywhere, even tablets and phones. We've also added a new MathJax filter for displaying mathematical equations beautifully, without needing any special server setup.
A professional upgrade with Paradiso Solutions means you can relax knowing your Learning Management System is in safe hands with years of experience performing successful upgrades on every version. Our experienced technicians at Paradiso Solutions can help you safely and securely streamline your the process from any legacy version to the latest release.
For more information on how we can perform a safe and secure upgrade please don´t hesitate to contact us for a hassle free quote on This email address is being protected from spambots. You need JavaScript enabled to view it. or call +1 800 513 5902.


Moodle is a registered trademark of the Moodle Trust.