What should companies look for when thinking of an eLearning Content Provider?

If you're trying to find an eLearning Content Provider to create the courses for your LMS, it's very important to take keep in mind that it must be relevant, specific and engaging. It is essential for software companies to understand that each customer is unique and also their requirements in terms of content and interactivity.

In order to create quality eLearning Content, aspects like the number and type of users that will take the courses must be taken in the count. Besides, the amount of content that will be developed, the level of knowledge of the users and the objectives that the company has with the training programs and eLearning Content.

The main thing that you have to think before you start developing the eLearning content or choosing the eLearning Content Provider should be clarifying the skill or knowledge that the trainee must achieve with the course to be competent in a specific role. In the same way, this content must be developed and delivered effectively to facilitate the training process. In this case, the LMS platform that you choose to deliver your eLearning content plays an important role.

Before creating an alliance between your company and an eLearning Content Provider, you should analyze the type of content your users want, what objectives they seek to achieve with the course and what levels of interactivity they want for it. You should also think about the average age of the users who will receive the content and their level of knowledge.

Another factor that you can't forget is the interactivity of the content. The learning process that is taken through an LMS must create a very special connection with the users so they can be hooked. The course must contain a type of material that makes the trainee participate actively. It could include presentations, videos, games or readings that require constant feedback from the student, forums, social walls, among others.

Your employees or students deserve the best. That's why you have to think carefully and do a deep research if you're looking for eLearning Content Providers or if you're going to develop the LMS content by yourself. You definitely need to get quality, speed, effectiveness, interactivity and, confidence.
What Paradiso Solutions can offer you as an eLearning Content Provider?
Paradiso Solutions is an eLearning content provider that offers you the possibility to have courses and learning content designed especially for your company. We are not trying to brag about our company, but it is one of the best when we talk about Content development or eLearning Content Providers.
Paradiso Solutions can create your content SCORM and Tin Can API compliant, which helps you run your courses smoothly in Paradiso LMS or any eLearning platform.
With Paradiso you can be sure that you will get rapid course development, Mobile Learning compatible content, Gamification based assessments, Simulation-Based Training, Custom Course Creation, Induction Training hours, Compliance training and Content Based on Training activities.
We offer 3 levels of interactivity depending on our client's needs, those levels are increasingly going from the basic course to more complex types of content or courses, Like this:
Level 1
Addition of static images

Addition of text

Description of functionalities

Basic questionnaire

Level 2
Animated clips / Image animation

Button functionality

Click based activity

Evaluations – Gamified Assessments

Interactive features like drag and drop

Level 3
30% animation/animation based simulation

Professional voice dubbing

Addition of functional buttons

Scenario-based simulations

Game-based evaluations

Benefits of Paradiso Solutions as an eLearning Content Provider:
eContent developed using licensed eLearning tools

Use of copyright free images and assets.

Outputs in CBT, FLASH, SCORM, HTML5 etc.

Feedback mechanism  ensures the client gets exactly what he wants

Dedicated graphics and instructional designers

Proprietary off-the-shelf course library

5000+ online courses

on dozens of subject areas

 

SCORM &

AICC compliant

training courses

Multi-device friendly video courses.

UI designed for 'touch screen' mobiles.

Coding of courses for swipe gesture on tablets and smartphones.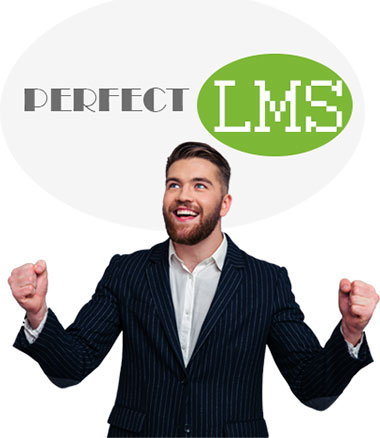 You have to keep in mind that It doesn't matter if your learners are learning in a classroom, online or in a simulator – if your course is boring, your learners will fail to engage.
Besides to be a great option if you're looking for eLearning content providers, Paradiso Solutions has a friendly and easy to use LMS, with gamification elements, that can be integrated to more than a hundred apps like CRM, eCommerce, CMS solutions and video conferencing, all together, to create a better eLearning experience.
In addition, our eLearning Platform is fully customizable to fit all your requirements. It is also mobile compatible, adapted for social learning, has robust reports and supports multi-tenancy.
Other brands that work as eLearning content providers are:
B-Online Learning

G-Cube

Aptara

Articulate

Lectora

Elucidate

iSpring

SmartBuilder

Shift eLearning
If you want to read more about them you can go to our blog "Top 10 eLearning content development companies".
Make sure you choose the one that fits your necessities and adapts better to your company. Also, take in count the support team of the company and always the human factor.