Are you looking to implement a solution of eLearning in India?

It's been more than a decade that big companies from all over the world have begun adopting LMS for eLearning, trying to improve their learning techniques and offer the students a new way of education. That's why many companies started looking for solutions for eLearning in India. If you're one of them, you came to the right place.

So, let us start with the fundamental question. What is LMS and which are its advantages? A Learning Management System can be considered as a great option to switch or complement traditional learning or education, because it offers to the student's flexibility, more updated information and immediacy.
The progress of eLearning in India
The culture of e-learning in India and internships have spread around the country. Now, students can find different alternatives and an efficient way to obtain a meaningful education in case they want to learn a skill online, compliment it with an internship, and repeat this cycle until they achieve their goal.
So, is common that you hear companies and educational institutions thinking to implement eLearning platforms or solutions to complement their training and education strategies. One of the most popular solutions is the Learning Management System or LMS.
An LMS is an eLearning software that allows you to create all the courses and users needed and covers direction materials, assessments and assignments, reports and more. The advantage of having an LMS in India is that it covers the 4 simple pillars in an institute or company – Curriculum/ training program, making plans, immediate evaluation, Learner Engagement and content material management.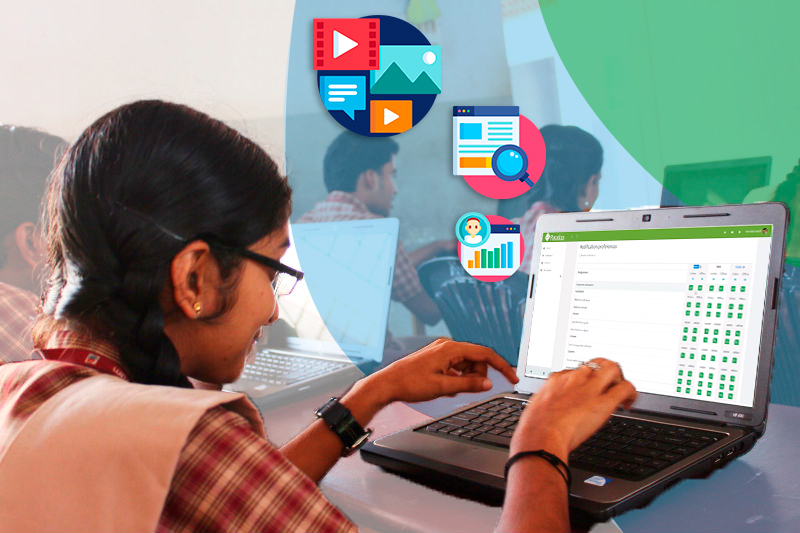 Curriculum Planning/ training program:
Schools and companies are involved in designing a Curriculum plan or training program that have the course plan with certain path structure and lecture schedule with the intention to have the attempt estimation for finishing the route.
Immediate Evaluation:
Depending on the platform, it could provide an instantaneous assessment of more than one preference questions asked in an exam or quiz. This significantly reduces the anxiety of the new students or trainees. The frequency of tests can be improved with LMS so that it will ultimately help in performance improvement.
Content Material Control:
Contents can be consolidated right into the LMS and may be used at any time. In the conventional system, the contents are scattered and most of the times, are not reusable. Students who are active in the very last year can get access to notes from publications they attended in those 12 months as a part of job placements. Also, it helps you keep the information and courses updated any time required.
Learner Engagement:
A Learning Management System drives actual time discussion forums between the students – beginners and inexperienced persons – and teachers. Collaborative learning substantially allows teamwork and verbal exchange competencies. Also, the multiple types of integration and features like Gamification can build more commitment on students.
The online market for eLearning in India is growing with an incredible fastness. The necessity to reach that market becomes a great opportunity to the e-Learning industry. Paradiso LMS is committed with the education field. We are bringing our software to contribute on the construction of an LMS in India industry.
To conclude, LMS in India is updating and improving the existing coaching practices and provides value to the current techniques. Studies carried out in many institutes in India underlines the truth that eLearning is the way forward.
Adopting this Learning management platform to your institute or corporation might be the best way of bringing interactive content for the students or employees. In addition, it enhances the verbal exchange between teachers and trainees.
These powerful teaching practices can make your learning environment the perfect partner to implement the usage of Paradiso LMS.
Paradiso Solutions is smooth-to-use, and powerful online learning platform in India for training and online schooling. It gives interactive, enticing, and linked studying experience for all users and instructors of your corporation. By adopting the use of Paradiso LMS, a teacher can replace the classic use of paper with new education tools, administer tests and other assignments, and control record-keeping.
If you want to know more about Paradiso LMS or you need a free consultation,
you can schedule a demo by contacting our sales team at
 [email protected] or call us at +91 787 584 3886.