Want to learn how to create online courses in an LMS? We tell you how

The quality of your courses determines the success of the training programs that you implement, either within a company, institution or for selling courses online. At Paradiso Solutions, we can give you some ideas on how to create online courses that won't just represent a single learning process for users but will keep them coming back for more.

When you have a knowledge or skill, it is common to want to show it to the audience within your reach, offering your services or teaching it so that this knowledge is practical and represents a benefit of use for you and those that require it.

One of the most effective ways to make your skills known to the world is by creating courses with quality content that represent the knowledge you possess. In addition, by learning how to create an online course you will be able to exploit your creative capacity and contribute with your knowledge to the world of eLearning by the hand of an excellent tool such as Paradiso LMS.
How to create an online course in Paradiso LMS
The course creation process in Paradiso LMS is very simple. There are three basic steps to create a course and by following easy instructions you will be able to transform the knowledge you possess inside your mind into tangible, useful information that will be enhanced by the features, integrations, and many technical possibilities from Paradiso LMS.
Three basic steps to create a course in Paradiso LMS:
1. On the left menu click on "courses" and choose the "create a course" option.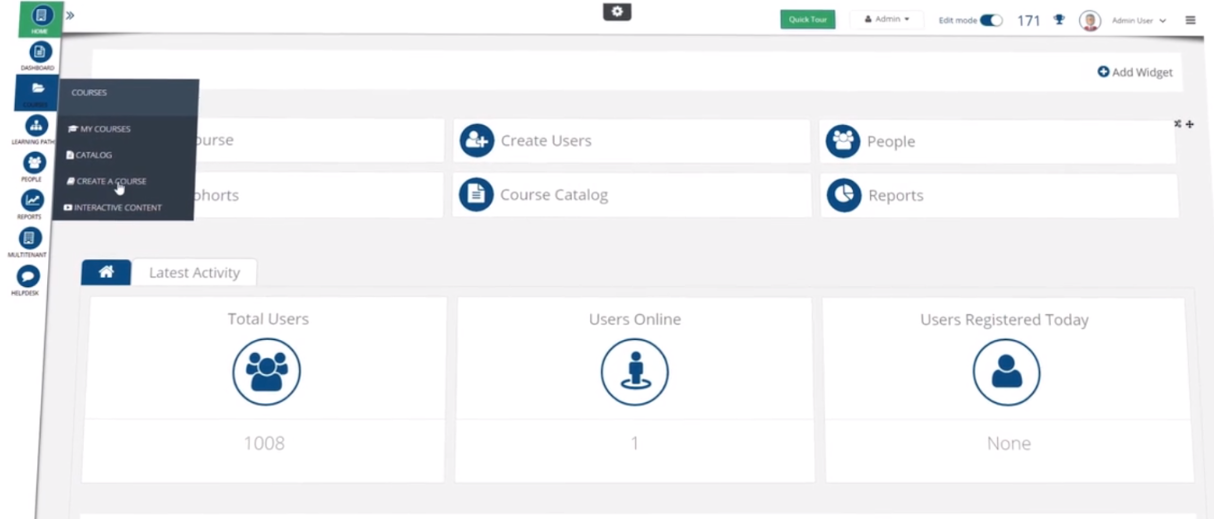 2. Type the course name, choose a category and write a description of the new course. Afterward, you can choose the type that you would like your course to have. It could be self-paced, blended, classroom training, virtual class.



3. The last step is to choose an image for your course and just like that, you have created a brand new course.

Paradiso LMS Course Creation Features
Video:
You can add any video you want in any of the courses as well as a different type of quiz activities such as drag and drop, open text, multiple-choice, true and false, amongst others.
Certificates:
Also, you can get the benefit of creating your own custom certificates.
Quizzes:
Easily add a quiz to your course by simply specifying the quiz name, add the questions and choose the question type.
Interactive video:
There is the option to create an interactive video activity by clicking on add content option and choosing video activity.
Enrollment:
you can easily enroll users into your course by clicking on manage enrollments. Once there, you assign them a role, look for the names of the users you want to enroll. The same thing happens when enrolling cohorts.
Paradiso LMS has the perfect tools to create and take courses that can be featured rich and really dynamic, providing various activities such as files, videos, quizzes, SCORM courses, presentations, games, and many others.
Using eCommerce to sell your courses
Selling online courses could be easier than you think! To be successful, not only a good reputation must be built but also it is necessary to offer a quality product. If you do not have an appropriate channel to show your product and sell it, your efforts may be overshadowed by lack of income. The implementation of an eCommerce LMS is the most effective tool to sell your eLearning content online.
With an LMS with eCommerce, you can promote and sell your virtual courses with easier than ever. The LMS eCommerce integration will give your users the possibility of accessing the Course catalog, they can purchase, register, and auto-enroll to start the sessions within the LMS.
Facilitating processes and making them more and more agile with the help of technology will generate a great impact on your company. Streamlining the enrolment and login processes must be key goals for companies as this can increase courses participation, engagement and of course revenue.

eCommerce LMS integration is customization work offered by many market-leading LMSs, and the extent of the integration depends strongly on the needs of the individual organization. It depends on the quantity and breadth of your products, the size of the company and how many bells and whistles you want to be included in the package. At Paradiso Solutions we work with you, the client, to determine exactly what the needs are and how we can best build the integration for the specific use case to allow you to sell courses online. All of this thanks, in great part to Single Sign-On (SSO) – which means you only need to enter one set of login details for both the eCommerce platform and the LMS – going from purchasing to taking the course is now a piece of cake.
Refer to one of our eLearning experts to catch up with the latest improvements,
trends and set up a demo at [email protected]