Switch from Moodle to Moodle Alternatives enriching your learning experience
Introduction :
Elearning has become a vital part of education and corporate training. Many institutions and organizations utilize online learning to train their employees. Online learning through a learning management (LMS) system has lined up the training and learning process in this pandemic situation.
Most educational institutions use open-source platforms such as Moodle, which provides a highly customized and effective learning environment. While on the other hand, many organizations or businesses prefer a top-graded LMS to train their employees.
Although Moodle provides you a highly personalized learning experience, many organizations prefer feature-rich LMS with customizable options and ease of integrations. So the question arises, whether choosing an LMS over moodle is the right approach? Why should you look for moodle alternatives?. This blog will give you an answer to the above questions, so let's check out the detailed assessment of moodle alternatives and how it helps you to strive in business successfully.
What does Moodle offer?
Moodle is the popular open-source LMS that provides a full-fledged customized learning environment. Most educational institutions, and training professionals in many organizations use Moodle. It delivers a powerful, flexible tool for a better learning experience.
Moodle is well known for its compliance training, onboarding and related training, competency-based training, and management. It provides you workplace safety training and much more. Moreover, it offers a highly-configurable, feature-rich, and user-friendly experience.
The most important thing about moodle is that it's free. Yes, you have read it right; moodle is very cost-effective as it offers users the freedom to modify, run, and share their content as per business requirements. Moreover, it provides anytime, anywhere learning so that employees can access the training as per their convenience.
You might be thinking about why you need an alternative to moodle when moodle offers personalized and advanced tools that meet all your learning needs. Let's get rid of your confusion and take a glance at the top 8 reasons to look for moodle alternatives.
Top 8 Reasons To Look for Moodle Alternatives
1. Cost-effective :
Moodle is free means you cannot say it's free up cost; it's just no license cost. Installation and other charges of moodle can surprise you. Meanwhile, the best moodle alternative like Paradiso LMS can offer you all the eLearning solutions at reasonable prices.
2. Ease Of Integrations:
Moodle integrates with most of the software to provide an effective training experience. In comparison, an alternative to moodle like Paradiso LMS offers more than 100+ software integrations such as CRM, CMS, and much more. It provides authentic learning and provides flexibility in the learning environment.
3. High Flexibility And Customizability :
Flexibility in the learning keeps your learner engaging. As moodle is customizable, but you cannot customize your moodle out of the box. Besides, you can customize LMS with moodle alternatives as it gives freedom to run, modify, and share your content.
4. Reports And Analytics:
Moodle tracks the learner's report and analytics, which improves their performance. Meanwhile, moodle alternatives are better options when it comes to monitor and track employee's progress. Paradiso LMS is the best alternative to moodle as it provides precise analytical data and reports, which boost employee performance and keep them engaging in the learning process.
5. High Engagement:
Engaging a learner is a difficult task in online learning. Moodle alternatives provide gamification mechanics such as badges, levels, rewards, etc. You can reward your employee after completing each level, motivating them to stay engaged and boost their performance.
6. Anytime, Anywhere :
Online learning has opened a new window for anytime and anywhere learning. Moodle alternatives provide flexibility in learning so that learners can access their training as per their convenience. Best Moodle alternative like Paradiso LMS, provides offline learning to continue their uninterrupted learning even if there is no internet connection. Paradiso LMS enables learners to access the data offline and learn at their own pace.
7. Content Security :
Data security is a vital aspect of online learning. An alternative to moodle comes up with high data security with end to end encryption. You can save your content in a central location to make it easily accessible for learners.
8. Customer Support :
You need developer support while using moodle and may face some issues related to the developer. Moodle alternatives such as Paradiso LMS provides you best customer support with all eLearning solutions.
These are some reasons that enable us to switch from moodle to moodle alternatives. Let's dig deep and explore the features and benefits of moodle alternatives.
1. User-Friendly :
Moodle alternatives provide a user-friendly experience that allows you to create, manage, and track online training content. It develops a learning path so that learners can perform better. It also supports mobile learning through which learners can easily access their training programs from tablets, smartphones, and other devices.
2. Learning Paths :
Developing a focused learning path helps learners to achieve their target goal. Moodle alternatives provide a precise learning path to go through the recommended courses and improve their performance. Best moodle alternative like Paradiso LMS play a vital role in corporate training. It offers a targeted learning approach for the employees, which fosters to improve their work efficiency.
3. Gamification :
Gamification in online learning is a vital aspect as it makes learning more enjoyable. Moodle alternatives incorporate gamification mechanics as a part of the learning strategy to create fun in training. Many corporates use points, leaderboards, and badges to motivate their employees. Best moodle alternative like Paradiso LMS integrate with social tools so that employees can share their achievements like rewards, badges, leaderboard ranking on social media. This develops an effective and engaging learning experience for the employees.
4. Interactive Learning :
Incorporating interactivity into learning improves the adaptability and capability of the learner. An alternative to moodle provides you to include interactive videos that keep learners involved in the course Video-based learning in corporate training plays a vital role as employees can quickly grasp and understand the content comparatively to reading it in a text.
5. Detailed Analytics :
Moodle alternatives monitors and track learner's performance. It provides analytical data so that you can analyze learner's progression and motivate them to perform productively. Best moodle alternative like Paradiso LMS feature analytics and provide in detail information regarding learner's progression.
6. Advance Reports :
Moodle alternatives provide advance reports that give you detailed information about the users and courses. You can personalize the reports and obtain the required information. It provides you info on a daily, weekly, monthly, or biannual basis. You can view, track, assess, and monitor learner's progress with the advanced reports. This helps to guide the learners to achieve their target goals.
7. Virtual Classroom :
The virtual classroom allows learners from a remote area to participate in the learning process. An alternative to moodle provides instructors and learners to interact with each other in real-time. It improves the effectiveness and enriches the learner's experience.
Opting for feature-rich moodle alternatives always boosts and improves your business productivity. Now let us take a look over how it is beneficial to adopt moodle alternatives.
Although moodle is fully customizable, if you need higher customization to enrich your training, moodle alternatives are the best options. You can customize LMS as per your business needs. Most of the moodle alternatives provide white-label LMS through which you can rebrand your LMS. You can customize the login page, insert your brand's logo, insert color theme, and much more. Customizing your LMS creates a high impact on customers.
An alternative to moodle such as Paradiso LMS personalizes the learning path to each learner. It offers a multi-tenancy feature through which you can bifurcate course materials based on individual requirements. So that learners can access their training course quickly and easily. Moreover, Moodle alternatives provide 360 degree customized solutions that positively develop learners' satisfaction and retention.
Want to know more about the best moodle alternatives? Click here
Still confused regarding choosing moodle or moodle alternatives? Here's a comparison chart that will help you make a firm decision.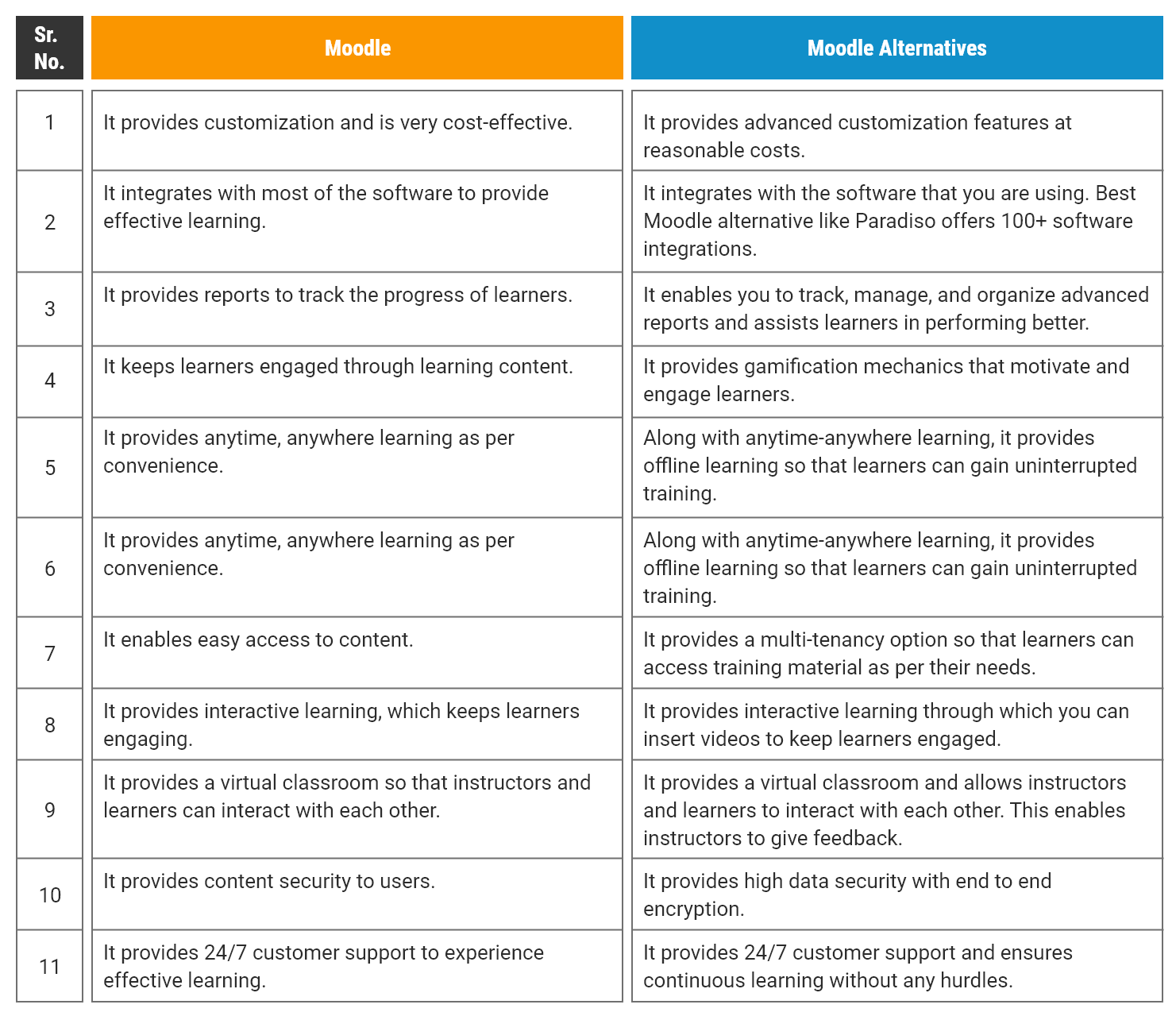 Feature-based comparison chart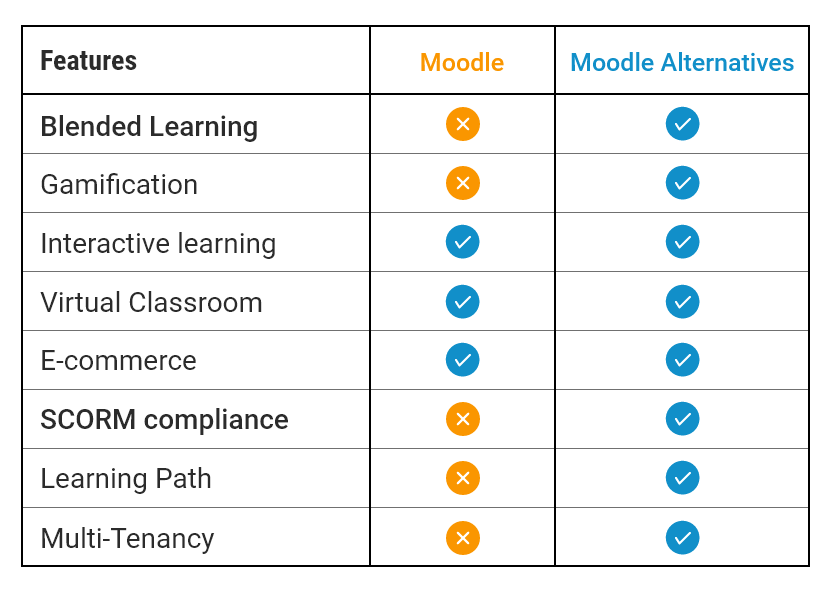 Are you opting for Moodle alternatives? Let's take a look at the top 10 Moodle alternatives, which will enrich your learning experience.
1. Paradiso LMS
Paradiso LMS is a cloud-based LMS platform that delivers feature-rich options to provide uninterrupted learning. It integrates with 100+ third-party platforms like CRM, CMS, e-commerce, and more. It provides features like gamification, interactive videos, virtual classrooms that engage and motivate learners. Paradiso is the best alternative to moodle as it is fully customizable and user-friendly that can fit your business needs.
In Moodle vs Paradiso LMS comparison, Paradiso is highly recommended by the clients due to its robust quality and features. It provides better reinforcement, an easy update system, more flexible learning, reduces learner's time, and saves money. Paradiso is the best moodle alternative as it offers all the learning solutions under one roof.
2. SkyPrep
Skyprep delivers cost-effective training for your organization. It provides robust features that improve learner's adaptability, capability, and productivity. It develops flexible course distribution options and provides automated grading and real-time reporting. It offers gamification mechanics like badges, points, and levels, which creates an interest in learning and encourages learners to perform better.
3. WiZDom LMS
WiZDom LMS is specially developed for organizations that help to train employees and educate external audiences. It provides accessibility of the training content easily. It focuses on delivering strategic learning and offers a viable, cost-efficient, and robust system able to fulfill the needs of any business organization. WiZDOM LMS has the ability to integrate quickly with other enterprise applications.
4. Tovuti
Tovuti is the next generation learning platform. It offers training for all sizes of businesses or organizations. You can simplify learning by creating courses and engaging learners more effectively. It supports blended learning, microlearning, and mobile learning to offer uninterrupted learning. It provides e-commerce support through which you can sell your courses quickly. It is more flexible and user friendly that can fit in for both academics and corporate courses.
5. Bridge LMS
Bridge LMS is a cloud-based platform that offers powerful courses, authoring tools, custom learning paths, and career planning options. You can create engaging and targeted course materials for employees so that they can access specific training. Bridge LMS helps to improve the productivity and work performance of the employees. It offers advanced reports through which organizations can evaluate the progress of their employees.
6. Saba LMS
Saba LMS is user friendly and easy to navigate the e-learning platform. It offers enormous customization options and top-notch features. It provides the tools needed to create multi-tier pricing models so different customers can access different pricing structures. Saba LMS offers you with best analytical data through which you can track your learner's progress and guide them to perform productively.
7. Ampletrails LMS
Ampletrails LMS is a highly scalable and flexible platform. It offers a personalized set of tools to make your learning easier and effective. With Ampletrails LMS, learners can easily access the training material at their convenience. It forms an exhaustive repository of all the information related to a specific course. Moreover, It provides flexibility in delivering content so that the user can modify the content as per the learner's requirement.
8. WizIQ
WizIQ LMS develops unique learning environments by providing top-notch features. It offers organizations to deliver top -graded training that accelerates employees to perform better. It develops engaging courses by embedding documents, creating rich text-based content, and more. It offers anytime anywhere learning to the learners as per their convenience. WizIQ LMS tracks and manages all the progress of learners and boosts them to perform better.
9. Olive LMS
Olive LMS is a well known Saas based platform. It is an integrated and mobile-ready platform that is easily scalable. Olive LMS offers asynchronous and blended learning for a better learning experience. It provides live/ video conferencing tools that allow learners and instructors to interact with each other. An interactive video feature embedded in Olive LMS enables you to include external videos into your training materials. Moreover, it also offers multilingual capabilities.
10. LearnTrak LMS
LearnTrak LMS provides authoring tools that help to develop interactive videos, documents, and quizzes in real-time. It offers mobile learning through which learners can access the training as per their convenience. LearnTrak LMS provides comprehensive reports which help to monitor the learner's progress of every individual. LearnTrak LMS boosts employee productivity and retention.
Conclusion
That was a detailed assessment regarding the moodle and moodle alternatives. The blog informs how switching from moodle to moodle alternatives helps to improve business growth and guides you to make a conscious choice. Hope this information aids you to find the appropriate moodle alternative that fits your business needs.