Looking for the best eLearning companies in Pune? You have found out one of the top ones in the market

If you run a company or institution and don't have acquired a Learning Management System yet, you are being left behind new technologies and trends. Purchasing an LMS to impart training, onboardings programs, compliance training or skill development courses within your company will bring lots of benefits. Let's take a look at what eLearning companies in Pune are pulling out to the world for business and educational purposes.

Most eLearning companies in Pune will help you deliver and set up easily your training and skills development programs within your organization. If you are looking for local help or 24/7 support. Let me introduce you to Paradiso Solutions.

Paradiso LMS is one of the best eLearning companies in Pune that could help you transform your training programs to a more interactive and dynamic eLearning experience. This feature-rich and highly customizable LMS makes learning fun with features like Gamification and Blended Learning. Even if you have several departments within your organization with different needs on LMS, Paradiso LMS's Multi-Tenant feature lets you host different and independent tenants in one LMS.

On the other hand, to track learners progress, Paradiso LMS has one of the best performance management and Advanced Reporting that would bring all the information you need to know and much more. You can also do appraisals, monitor workflow and even set learning plans.
Before searching for the eLearning companies in Pune…
You have to make sure that you choose the right company and the right eLearning company in Pune because you can find many options there.
The main thing that you should keep in mind is that the eLearning company offers you a feature-rich software, as Paradiso LMS,  where you can blend traditional virtual classroom-based e-learning methods with cutting-edge techniques such as gamification, social learning, and multi-tenancy.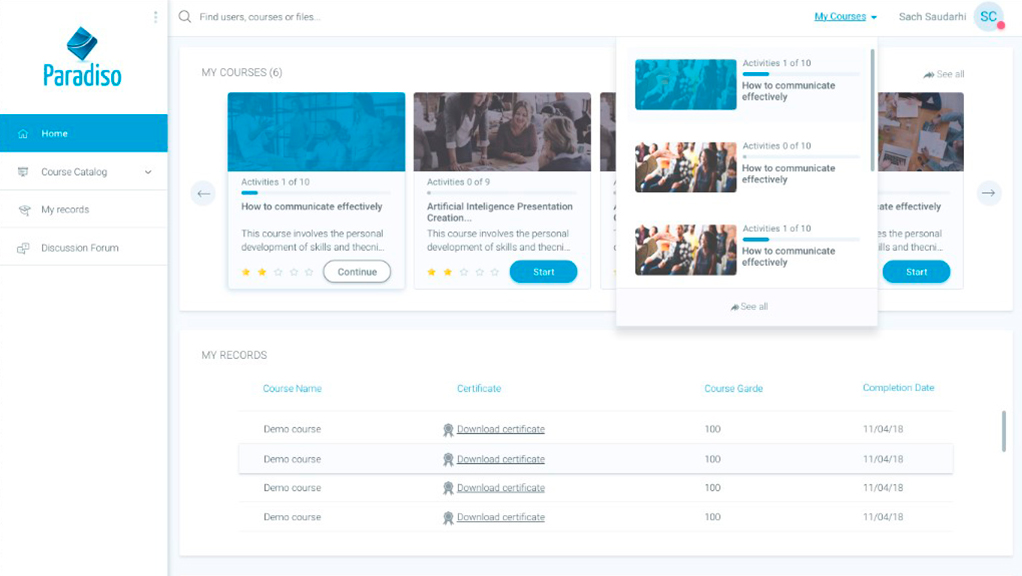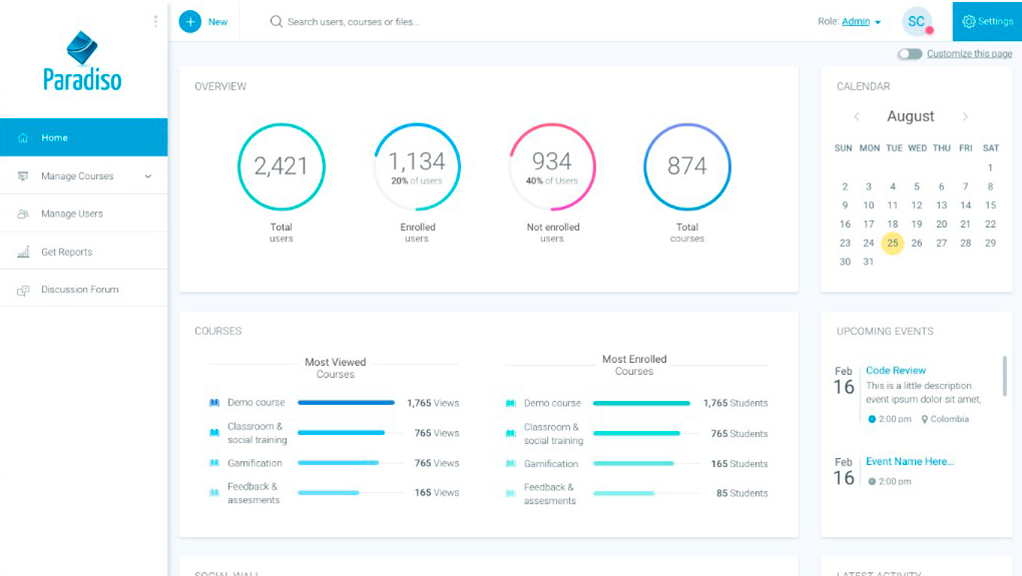 Also, it's very important that the LMS focuses on the user experience, with a friendly interface, where the administrator, as well as the end-user, should be able to use it easily. An eLearning company in Pune that responds to these points is Paradiso LMS. Some of its most characteristics benefits are:
Paradiso LMS is an all-in-one SAAS/Cloud-based eLearning platform that helps you save time and money in implementation.

It could be fully integrated with more than 100 integrations like

HRIS

,

CRM

,

CMSs

,

e-commerce

, among others.

Paradiso Learning Management System is

SCORM/ AICC/ Tin Can API compliant

. Your content will load smoothly.

It is fully customizable: our interface could be personalized according to your ideas and needs.

Paradiso LMS, over many other eLearning companies in Pune, has extra features that made the platform features-rich and unique. Some of them are gamification, social learning, learning paths, competency management tool, like many others.

Multi-tenancy

: our LMS platform can support many tenants on the same platform, each of the independent and with different information, content, and reports. You can create a unique tenant for employees, partners, and customers if you require it.
The culture of e-learning in India and internships have spread around the country. Now, students can find different alternatives and an efficient way to obtain a meaningful education in case they want to learn a skill online, compliment it with an internship, and repeat this cycle until they achieve their goal.
So, is common that you hear companies and educational institutions thinking to implement eLearning platforms or solutions to complement their training and education strategies.
Don't get left behind the most efficient learning trends and hurry up to start implementing an LMS within your educational institute or in the corporate field with a safe and reliable platform like Paradiso LMS.