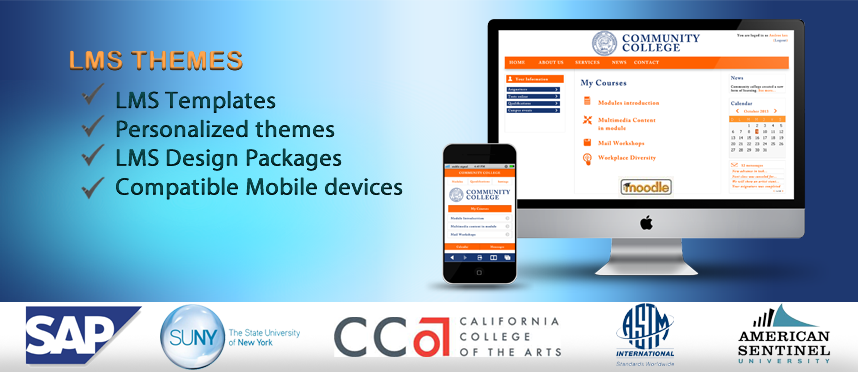 LMS Themes
Moodle is a Course Management System (CMS), also known as a Learning Management System(LMS) or a Virtual Learning Environment (VLE). It can be used in many types of environments such as in education, training and development, and business settings. Moodle provides a complete online learning environment with an emphasis not only in online collaboration but also including self-study, self-focus courses.
LMS Theme Design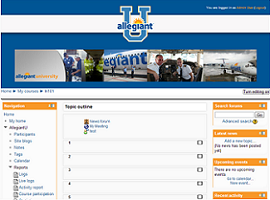 First impressions last. How a company presents itself to the world speaks volumes about the service they offer to customers which in turn directly affects purchasing behaviour.

This is why a professionally Designed Theme (eg. for Moodle LMS) is essential to give your organization the edge in a competitive market.

Our LMS theme designs are tailor made to compliment your company´s brand with a heavy emphasis on enhancing the user experience to make learning on a joy.
Paradiso Solutions LMS Theme Design Creation Process: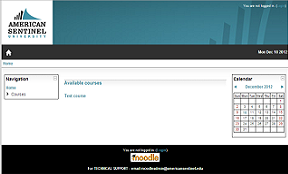 1. Our project manager discusses with the client their vision for the LMS theme while showing examples of our past work and examining the clients company logo and the look and feel of their brand.

2. Once the requirements for the new theme are clear the graphic designer begins working on 3 unique theme designs. The client picks one and suggests modifications which are then implemented until the design is considered complete.


3. The design is passed to our theme developer to create HTML and CSS template out of the graphic designers draft. A beta of the LMS template is uploaded to a development server.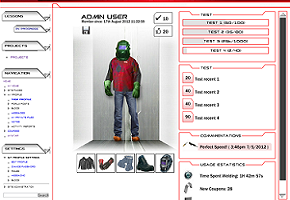 4. Both project manager and client test the theme on the development server and document the bugs in our online project management system.

5. Once the bugs are fixed another round of testing is done to see if the theme is feature complete and without bugs in Chrome, Mozilla, Internet Exporer, and Safari.

6. Once the bug fixing is complete the theme is moved to the client's production server where the final round of testing is performed until the theme works flawlessly.

Theme Design Packages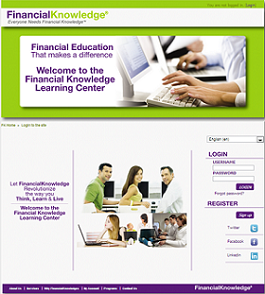 Our three LMS Theme Design packages were created to suit a range of different needs and budgets
Level 1 (BASIC): changes are made to the header and footer as well as minor changes to the login page

Level 2 (ADVANCED): the colour scheme, fonts, and overall look and feel of the Moodle template is modified as per the customer request.

Level 3 (PREMIER): major changes are made to the layout of the template, custom made buttons, match your company identity by offering our unique Moodle themes Design. and then bug tested on all browsers to ensure the final product offers a flawless theme experience.
We have designed Moodle themes for Moodle 1.9, Moodle 2.0, Moodle 2.1, Moodle 2.2, Moodle 2.3 and Moodle 2.4 and our Moodle themes are compatible with Mobile devices such as smart Phones and Tablets.

For more information on our professional Theme Designs please don´t hesitate to contact This email address is being protected from spambots. You need JavaScript enabled to view it. or call +1 800 513 5902.


Moodle™ is a registered trademark of the Moodle Trust.