Moodle eCommerce- Looking for a Course Shopping Cart and Multiple Payment Check Out ?

Check this Presentation to know more about our eCommerce Solution!

eLearning and eCommerce are long lost siblings who have just recently started to find each other. Many more people are selling courses online and using the cloud for almost everything done in their companies. Moodle eCommerce integration is the fruit of our labor, and brings together both so you have everything in one place.

Paradiso Solutions has a range of options with regards to eCommerce and Moodle. Although a plugin for PayPal and Moodle already exists, to only integrate Moodle with PayPal would be a serious limitation of scope as various other platforms provide different alternatives for displaying products and processing payments.

Paradiso has been able to integrate Moodle with eCommerce platforms such as Magento, WooCommerce (WordPress Compatible), and Drupal Commerce.

These integration come with a lot of features and you can cherry pick the ones you need. These integrations have been created to be easy to choose, and so you don't get stuck with options that are not relevant to your company.

The production process is shown in the image below.

​
We are confident that this production chain works best for companies or institutions that sell courses online.  
Step 1
Shop / eCommerce
Users access the Shop or eCommerce site (Magento, Woocommerce, Drupal, Joomla)  where the courses (products) are listed. 
Step 2
Purchase Course
Users browse through the course catalog and purchase courses of interest. 
Step 3
Auto Enrollment
Once the purchase has been successfully completed, in the backend eCommerce will communicate to Moodle that User X has bought course Y, and the user will be automatically enrolled on that course. 
Step 4
Moodle
Users will have access to Moodle to start using the course they just purchased.
There are many variables on how this process will work, since some companies or institutions might need SSO (Single Sign On) in which users will only log in at Step 1 (eCommerce Site) and gain access to Moodle just by clicking a link or button on the site – without needing to enter any log in details or credentials.
Auto Enrollment will be the secondary variable for this and we believe the most important. Auto enrollment allows users to be enrolled into a course right after they have purchased it. 
User Synchronization
This option is available for those who will have users register directly on their site or eCommerce site and will transfer the users information to Moodle. This option is for organizations that wish to have users register directly on their own site or an eCommerce site, and automatically sends user date to Moodle. This feature works best together with the Auto Enrollment.
Options and customizations remain open, and it really comes down to what the needs of your company or organization. Moodle eCommerce represents a new way to sell Virtual and Blended learning. In a world where everything is being done online, there is a high demand for a SELF SERVICE institution where students can easily register, access, purchase, enroll and use courses.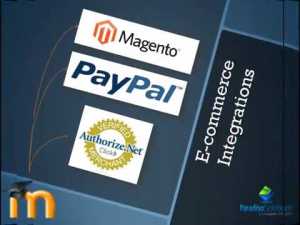 About e-Commerce:
Electronic commerce has grown in importance as companies have adopted different channel systems on account of its many benefits such as immediacy, choices, 24 hour availability, global markets and interactivity. We at Paradiso Solutions realized that this powerful tool should be integrated with our eLearning platforms in order to provide automated student enrollment on successful payment and registration, and allow institutions sell their courses within the platform. With our Moodle eCommerce solutions we can help you sell your courses online.
What our clients say:
"Paradiso Solutions has been providing us with production support. The staff at Paradiso helped us with paypal integration, action script and PHP programming for our eCommerce site. We get thousands of hits a day and we needed someone reliable and trustworthy. We are very pleased to have Paradiso as our technical support team. I definitely recommend their services." 
Dan W.
President at Lightning Wear
Moodle Themes Samples

 
Call us now at +1 800 513 5902 to talk with a Moodle Expert today, or
email us at [email protected]