Basics of an L MS
Defining an LMS
Definition
What is LMS? - "A learning management system (LMS) is a software application for the administration, documentation, tracking, reporting, automation, and delivery of educational courses, training programs, or learning and development programs." Wikipedia
"Learning management system is designed to identify teaching learning gaps, analyzing and reporting the data automatically."
The role of the Learning Management System (LMS) in today's world is more than managing training administration, scheduling of courses, classroom training, mandatory compliance training, and certifications. It includes offering a learning path, tracking the learner's progress, providing personalized content, offering social learning to the students and learners as well as reporting the progress of the learners.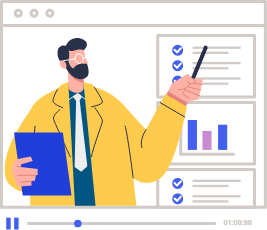 LMS stands for Learning management system offers benefits to learners and educators by monitoring students' achievements, by offering flexible learning modules, providing different types of learning activities, etc. The flexibility brings with it more independence for the student but also the need for more self-direction and self motivation.
"What is an LMS?" - This article revolves around all your queries related to LMS, , who needs an LMS, what are the it's features & modules of LMS? This will bring more clarity among users so that they can use LMS to its fullest.
This training software involves managing users, learning materials, learning events etc. It also administers learning progress and keeps track of learning performance. The training system is designed to facilitate administrative tasks as well as student participation in e-learning materials.
What does LMS stand for?
Acronym for learning management system, it is a type of software that hosts educational or training content for students or employees or customers. Using a learning management system makes it possible for businesses to transfer your training and development program into an online environment. Business leaders can organize learning programs and reduce the time required to create courses and distribute them to your colleagues or students.
The learning management system can vary from a basic nursery rhyme audio/video CD to any sophisticated software to advance teaching management program or business. A standard learning management system can perform a variety of e-learning tasks such as providing materials to students, discussion through chat or teleconference between learners and instructors, tests, recording scores, report and track the progress of learners.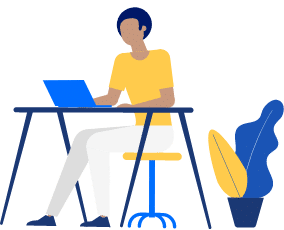 Usually learning management system may have thousands of modules to plan, implement and assess a specific learning process. These learning modules comprises social wall, gamification, multi-tenancy, machine learning, data analytics, so on and so forth. But a standard learning management system will consist of 5 major modules:
This module will allow you to register learners details(first name, last name, address, current learning status) can set their passwords and arrange their profiles as per the requirement through the user management module.

The course management module consists of resources and activities. Resources include SCORM files, pdfs, word documents and course management module manages these resources. Admin will be able to embed YouTube videos or mp3 or mp4 files into the system. Activities comprise of discussion portal, quizzes that will help you gauge students capabilities, certificates that learners will be able to download as per their course completion.

Reporting module, as the name suggests, compiles a report of learner's status in course completion or their course activity data are summed up as reports and generated in the reporting module. Learners can look into the analyzed report and know where they lack in learning and training.

A sophisticated LMS will have roles and permissions to customize the system for every user profile that comprises student, administrator, instructor role. With Paradiso, you can create roles such as teaching assistant role, different manager roles, etc. and can assign them to users.

When a learner or student logs in to the learning portal, he/she should be able to access the course with ease. This implies learners should be able to easily access the course they are supposed to complete in the given time limit. In the same way, if the course is unfinished, learners should be able to easily come back to the incomplete course and resume their learning instead of redoing the course.
Why use an LMS?
Learning management systems deploys, and measures learning activities across organizations. It is used to deliver online course material to users through elearning programs and helps track learners progress and performance. Let's read in detail about other uses of learning management system that helps in increasing business efficiency and makes it worth for users to buy this training management system.
When you use an LMS, the major advantage comes in the form of saving time and money. You don't have to spend a single penny for keeping track of the learning activities and evaluating them. The reports related to the learners' progress are automatically generated and the grades are provided according to the performance. It also helps educators to create certain learning modules for the learners depending upon their progress in learning.

LMS offers effective overall control over administration, communication with teachers, learners and trainers along with course management. With efficient management of sign ups/registration, creation of courses and groups learning management system offers educators and learners to administrate and manage easily.

Easy access to information

All the courses and materials in an learning management system are structured in an organized way making it worth for its users to access the content. Educators can have access to learning content and materials at any time and from any place where they have internet access with just one click.

Speaking of custom learning management system offers every organization and institute to personalize their content as per their requirement. All the content uploaded on it can be tailor made and be provided to the employees and learners to fit their needs. Customize also includes being multilingual. Learning management system such as Paradiso LMS offers support in +120 languages so that you can ensure your learners gain the same benefits and features no matter where they are present.

LMS such as Paradiso LMS allows educational institutions and businesses to create multimedia learning content which is practical and comprehensive, using images, video, audio and text which serves as an apt tool while learning new courses or skills. Learners can also communicate with their educators as well as classmates via chat platforms and online forums. This helps in creating a collaborative, interactive, attractive and personal learning environment.

LMS allows the personalization, creation and download of detailed reports. Outlining the progress of the learners & completion of work allows easy evaluation of their progress either as a group or individually. Educators can stay informed on your learners' progress with email reports and can schedule reports to arrive subheading at any weekly, monthly interval as per their choice. It also captures every action, every user takes on the platform.

This employee training system allows administrators to instantly update courses, or to add materials and resources for students so that learners remain up to date with the current existing information. Whether it is a micro content or a new engaging video on a new technology everything can be updated on learning management systems and be provided to the ones interested in the genres.
A Go-to Software for Different Sectors
LMS Pricing Models and Ways to Deploy LMS
How does pricing work for LMS?
The price of LMS depends on the needs of the institution. If the company requires maintenance or improvement to LMS, the cost will be different. Learning management systems software costs vary widely; you can get one for free or one that will go for thousands of dollars depending upon your needs.
Speaking of free software, these are an open-source training management system where the original source code is freely accessible, customizable and sharable. Technically, these learning management systems are free which means it has no licensing costs.
The question of what is the price of learning management software depends on several factors. Usually priced on two factors, LMS pricing is mainly defined by number of users and functionality. This means the pricing of LMS software tends to be directly proportional to number of users and functionality of the LMS.
Below are LMS Pricing alternative:

Pay per user
This pricing method is useful for those organizations who know the exact number of users taking online training. So, when a business opts for this type of payment it is bound to pay a fixed price for the number of learners involved in the online program.

Pay per active users
Unlike the previous price model, this method involves a payment based on active users and not for all the users registered, just for active users. You will only be charged for the users that log into the system and take the courses during the pay period.

Licensing
In this payment method, unlimited user can use the LMS by paying licensing fees for a fix period like, a month or a year. It is suggested to go for this payment when the you are sure about the certain features required during the learning and training.

On-premise
The LMS self-hosted on the company's server or on third-party servers, which allows for more customize and scalability with other locally hosted apps. In this you need to pay a one-time upfront cost and setup fees for installing an LMS.
Take a note that LMS providers sometimes mix the above pricing models, such as pay-per-use, per-course. Before buying an LMS go through its pricing as per your requirement in LMS.
How do you deploy an LMS?
The one who knows what is LMS and is eager to involve the system in learner's training and learning process should be aware that while choosing an LMS, the deployment is one of the most important factors to consider. Deploying an LMS software within your system can primarily done by cloud based LMS deployment or on- premise LMS to achieve maximum returns.
Cloud LMS such as Paradiso LMS, is a system where LMS is located on an external cloud server and the implementation and setup occurs from a private cloud server. Demand of cloud-based LMSs are growing day by day as it can support the new evolving eLearning methodology such micro learning or AR/VR. Cloud based LMS can easily enhance device infrastructure and can help adapt with necessary upgrades.It is also known as a Software as a Service or SaaS learning management system, or web-based LMS.

An on-premise LMS, is a type of LMS where you purchase the complete code and features of the LMS software and install it on one of your own hosted servers. Having your LMS within your own data center gives you control while customization.

You can make changes to the code and integrations without having to consider other organizations. Further you can also retain full control of who and how employees can access the system. It is also known as a licensed, in-house or installed LMS, or self-hosted LMS..

Open source LMS are being used in different environments and have open source code that you download and access for free. This makes it an appealing option for SMEs with economical budget. Before making the choice, one should consider both benefits and challenges of open source LMS. The biggest challenge is that you need to have strong technical skills.

Having a skill set of using .Net, MS Office, Articulate, etc., will not work. You will need skill sets that would include programming HTML, javascript, CSS, XML, perhaps Ruby on Rails, SQL, PHP, databases, etc. The source code for open source learning management system is open and free but other side fees for setting up the platform, hosting, arranging storage areas, upgrading, support, and maintenance are monetized.

If your business is running on a strict budget, you can choose some of the LMS with free options such as freemium LMS software. It's a basic version of premium LMS software that'll not have the tech support or third-party integrations.
LMS integration
Can I integrate my software with LMS?
There is a possible inclination towards asking whether the LMS can be integrated with other software programs at work.YES! a learning management system can be set up so it's integrated with the software applications at your workplace.
LMS integrations save time, reduce manual tasks, and also offers an increased range and depth of reports. The more integrated your systems are, the easier it will be for individuals, teams, and departments to do their jobs, collaborate, and achieve their learning goals.
Organizations with CRM-LMS integration can track and interpret customer and prospect behavior more efficiently and effectively. This, in turn, helps them engage these audiences in educational content that is more timely, relevant and useful. As a result, their sales cycles accelerate, customer churn shrinks, support tickets decrease and revenue streams expand. Listed below are few LMS-CRM integrations:

Owing to the learning management system's vast scope of use; the system offers several advantages businesses can garner before, during, and also after the implementation of ERP systems. Integration of ERP-LMS offers self-paced learning to the employees, helps in personalized training with trackable progress. Listed below are few LMS-ERP integrations:

CMS is a web-based technology for organization and dynamic delivery of the contents and learning management system provides tools for administration and scheduling of learning goal. A common platform integrated with CMS and LMS along with dynamic interaction with peer communities can do wonders! It can help you with optimizing your website or can offer you quick and seamless updates. Listed below are few more LMS-CMS integrations:

An eCommerce integrated LMS such as Paradiso allows users to carry out all their transactions starting from registration to making the payment through a Single Sign-On (SSO). This method of purchasing eLearning products directly from the LMS is time saving and also a secure option than visiting a third-party payment portal. With LMS-eCommerce integration market value of your site also experiences a good rise. Listed below are few LMS-Ecommerce integrations:

LMS are often purchased and run separately from HRIS, but there are some real benefits to integrating the systems as you can save time on dual entries of participants, allowing companies to strategically use training data to spot patterns for training and promotion.

LMS SAP integration is designed to get the most out of your employees while improving efficiency to reduce wasted costs from poor decision making and mismanagement. It offers learning experiences to develop new skills, gain insights and drive people engagement. Listed below are few LMS SAP integrations:

The integration of virtual classroom software to the learning management system will build a more effective teaching/learning process. It offers you face to face real time sessions, helps in recording live sessions, notifies within your virtual classroom software and many more. Listed below are few LMS Virtual classroom integrations:
How can I integrate LMS with my system?
These integrations are handled with an application program interface (API). API helps to serves as a bridge between your software systems and your LMS. They enable programmatic data transfer between two systems, sometimes even exchanging similar data.
LMS can integrate with any third-party systems through APIs. In layman's terms, with the interface between Twitter and YouTube, you can play a YouTube video directly on Twitter without leaving the platform. It is the key to put everything together. Usually Twitter and YouTube are two separate systems but with an API, they offer a consistent user experience.
Role of API in LMS integration with third party systems

With a built-in mechanism, APIs allow real-time data import and export, which are HTTP-based, and make use of widely supported web data formats such as XML, JSON, Atom and RSS. In simple terms, APIs allow two systems to communicate with each other. APIs supports integration with back end systems such as Human Resource Management Systems as well as assists integration of learning record stores for detailed L&D analysis. Further, APIs also support access through mobile devices, desktop applications along with browser based technologies such as Adobe Flash.
Select the Best LMS as per your Need
How to choose an LMS?
Now that you have a good overview of what is learning management system and the various benefits and LMS features has to offer, it's also important to understand how to choose the best LMS for your organizational purposes.
Investing in a learning management system for any business often boils down to how quick can you measure the ROI. If it's for business purposes, for instance to train customers or employees, being able to quickly and effectively produce high levels of proficiency matters or to train your doctors and nurses on new medication.
Conclusion:
Learning management systems (LMSs) have evolved in response to the demand for online educational training that leverages advancement in information technology, telecom, healthcare, travelling as well as manufacturing sector. The requirement for LMS can be either exclusive, where the client pays for the installation, maintenance, and end- user licensing, or open source, where the source code is freely available.
Lately, giving it a definitive end I would like to say that learning management system continues to evolve, and facilitate tailored content to individual learners, enhance social interactions between online learners, and help in institutional decision making to a larger audience.